Fear of the coronavirus has also come to the Moria refugee camp in Lesbos (Greece), prompting several Christian organizations to take steps to protect the nearly 20,000 people crowded into the camp.
According to a report published by Human Rights Watch on April 20, the refugee camps on the Greek islands, especially the one in Moria, "are not prepared for Covid-19". All those interviewed for the report described an "extreme agglomeration" as well as "extremely poor water and sanitation conditions".
These conditions, in some areas of the refugee camp, have been reduced to one faucet for every 1,300 people, one toilet for every 167 and one shower for every 200, Doctors Without Borders informed.
Christian organizations such as Christian Refugee Relief, REMAR, EuroRelief and Global Aid Network (GAiN) are operating in the Moria refugee camp. The last two (EuroRelief and GAiN), working together, have decided to begin an emergency mission to fight against the effects of Covid-19 within the refugee camp.
Although there are still no diagnosed cases of Covid-19 in Moria, the collateral damage of the health crisis has had a very negative impact on the already deplorable living conditions of asylum seekers.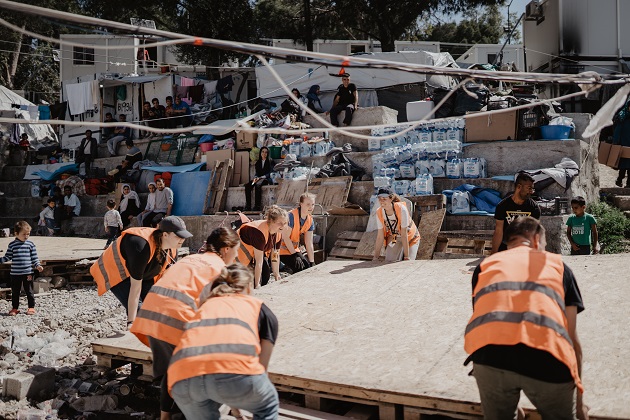 Volunteers working in the Moria refugee camp. / Photo courtesy of EuroRelief. Author: Salomé Wiedmer
Much of the aid received by EuroRelief, which is responsible for managing the distribution of refugees in the field and providing essential resources, stopped due to current limitations, as well as the lack of personnel on the island.
Furthermore, these humanitarian aid shipments, have been delayed for even longer due to the outbreaks of violence that occurred in early March.
Given the obvious need for external aid, and at the request of EuroRelief, GAiN has started a fundraising campaign with the aim of enabling an adequate quarantine space for possible cases of infection and allowing the arrival and distribution of humanitarian aid.
Since mid-April, there is a GAiN team on the island that, after a period of preventive quarantine, began its activities on Monday, April 28. A second group leaves this Sunday, May 3 to Lesbos.
"In these times we feel that the hope we have found in Jesus is more transcendental than ever", says Miqueas Forster, director of GAiN Spain. "That hope is expressed in acts of love and sacrifice by people in situations of extreme vulnerability, such as those who live in Moria, and God calls us to bring that hope, in a relevant way, where darkness and suffering reign. We feel fortunate to be able to do it with all that He has provided", he added.
You can participate in the GAiN Spain fundraising campaign here.