Christa didn't think there were a lot of Christians in New York when she first arrived. Now she works for a church internationally known for reaching out to secular people, Redeemer Presbyterian Church founded by pastor and author Timothy Keller.
I meet Christa in Sheep's Meadow in Central Park, where she is gathering with a group from the church in a corner of the meadow. The name "Sheep's Meadow" comes from the fact that sheep used to graze here till 1934. The space is now filled with people relaxing, playing, eating and enjoying the autumn sun. The constant hum of Manhattan traffic is at a distance. Skyscrapers towering mightily against the slightly hazy sky remind us that we are still in "the greatest city in the world."
The Redeemer group is using their day off to get to know new people who have found their way to the congregation and the new pastor who comes from England.
Old view
Redeemer Presbyterian Church was founded by theologian, Bible teacher and author Timothy Keller and his wife, Kathy, in 1989. It has received national media attention for growing with a theologically conservative profile in a city known for being secular and liberal.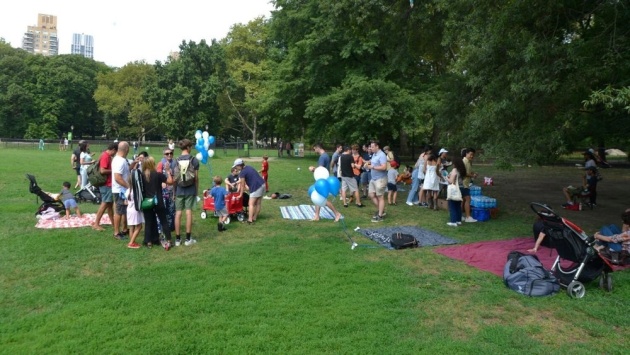 [photo_footer]People from Redeemer Presbyterian Church gather in Central Park to build relationships. / Tore Hjalmar Sævik.[/photo_footer]
The notion of New York as a godless city has also found popular cultural expression. Country legend Hank Williams once sang that if heaven isn't like "Dixie," he didn't want to go there.
"Just send me to hell or New York City. It would be about the same for me."
Growing love
Lopez was raised in Los Angeles. She returned to California after being enthralled by New York during her first visit. Once at home, she began to read about what was happening in New York's church life. This included growth in immigrant congregations and joint prayer meetings in the old Grand Central train station. The discovery aroused both interest and commitment.
"I started praying for New York, and my love for New York grew," she says.
Lopez also says that she experienced God calling her to move to the city.
A church in decline
Right from the church's founding, Keller placed great emphasis on combining Bible teaching with Christian involvement in culture and society.
"It was the congregation's group for artists that drew me into the congregation," Lopez says.
Keller retired as pastor in 2017 and has been undergoing treatment for cancer for the past two years. During this period, he has nevertheless published a series of articles about the decline of the American church in recent decades and about what a Christian renewal might look like. "Never in American history has the church been weaker or the American population more disconnected from religion," Keller writes. He adds, "No one thinks that the present state of our American churches is good."
One of his answers is that the Christian church must detach itself from political polarization and rediscover the visions the Bible gives for Christian life in the world: first and foremost, a community of faith in Jesus Christ.
Wide selection
New York is among the most religiously diverse areas in the United States, according to the Public Religion Research Institute.
Among the religious groups that are far stronger here than in the United States overall are Catholics and Jews, according to the Pew Research Center. Evangelical Christians are a far smaller group here than in many other places in the country.
At the same time, there is also a wide range of such congregations. The largest of them, the Christian Cultural Center in Brooklyn, is planning a billion-dollar urban development project, according to Christianity Today.
Guests from all over the world
On a Sunday morning, people flock to another well-known congregation in the same borough: Brooklyn Tabernacle. It is located directly across the East River, which separates the district from Manhattan.
"Where are you from?" one of the church hosts asks some visitors.
"France," they answer.
"Are you staying here for the entire service, or are you here to hear the music?"
When they answer that they want to stay for the whole service, they get more central places in the spacious former theater hall that houses the congregation.
"There are so many questions about usability and what people want in congregations. We would rather go back to the Scriptures and ask, 'What did Jesus say?'" says assistant Charles Hammond. He has found a relatively quiet corner in the space as people flow past to find seats. He has been a member for over 40 years. During this time, the congregation has grown from around 200 to around 10,000 members. The pastor estimates that about 40% are Black, about 30% Latino and about 30% White.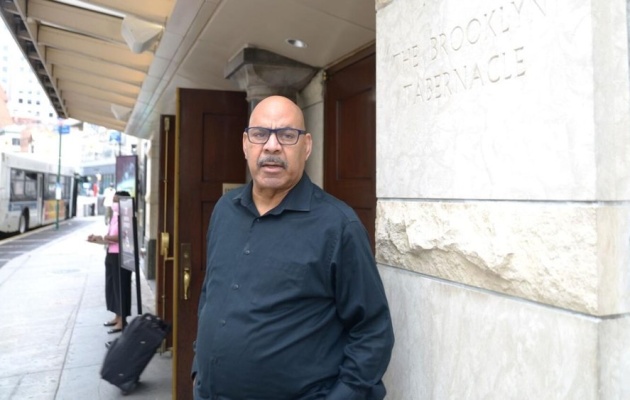 [photo_footer] Co-pastor Charles Hammond emphasizes that Brooklyn Tabernacle will be open to everyone and at the same time not compromise the Bible. / Tore Hjalmar Sævik. [/photo_footer]
The world-famous Brooklyn Tabernacle Choir draws many to the congregation. When I visited, it was said that they will immediately release their 40th album. They sing gospel music so the whole room rocks and vibrates.
"It was never our intention to have visitors. Our intention is to preach the gospel and exalt Jesus Christ," says Hammond. He emphasizes that the congregation also wants to stand together with other congregations in the city to carry out this mission.
Seeking deeper relationships
In recent years, congregations and Christian leaders in New York have invested more in collaboration through the Lead NYC initiative. One of the architects is Mac Pier, who belongs to a Baptist congregation in Queens where many have an Asian background.
"I don't want to be too generalizing, but in most cities I think there is too much division between churches," Pier says. He believes that this may be due to differences in, among other things, ethnic background and denominational affiliation.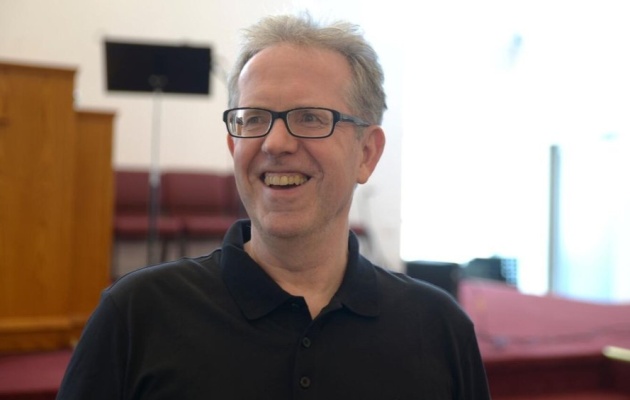 [photo_footer] Mac Pier sees a need for closer cooperation between congregations in large cities, as has been achieved in New York over the past 15 years. / Tore Hjalmar Sævik. [/photo_footer]
"In most urban environments, you don't have the necessary depth in the relationships to have the trust that allows you to have a big influence," he says.
That is why he believes that a lot of congregations and Christian leaders in New York gather three times a year to inspire and learn from each other. It is inspired by the fact that the Jews in the Old Testament came to Jerusalem three times a year.
The biggest is Movement Day, which took place in October.
Pier is also a mobilizer for big cities in the global Lausanne movement, which promotes Christian mission. He hopes the development of church cooperation in New York can inspire others, both in the United States and other countries, to carry out both evangelism and efforts for the poor and disadvantaged.
"There is a growing missionary movement with a call to the cities that will make a difference," he says.
Seeking challenges
In a cafe in Manhattan, where Wall Street meets Broadway, sit two people who don't come from New York. But they have moved here to rediscover and share the experience of the close Christian community with others.
The couple, Kylie and Joey Willis, both Christians, will soon become parents for the first time and are expecting twins. They know many people who can't believe that they have established themselves in this city.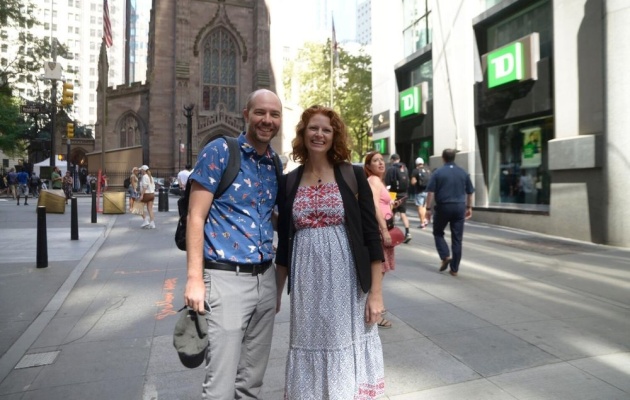 [photo_footer] Kylie and Joey Willis think New York is an important place to be, among other things, because the city is characterized by great diversity and many people are unfamiliar with the Christian faith. / Tore Hjalmar Sævik. [/photo_footer]
As previously reported, there are a number of Christians who move from ideologically liberal states such as New York and California to conservative ones such as Tennessee and Texas. But Joey comes from Texas.
"I think there is a certain cowardice involved," Joey says about the phenomenon.
He thinks Christians should seek out places that can be challenging if they want to "spread the kingdom of God."
Kylie comes from Canada, which in a religious sense is more like Western Europe. She recalls the parables Jesus tells about Christians, such as leaven, salt and light.
"It only takes a little. That is what we are called to do. We are not called to be by ourselves," she says.
Not consumers
When Joey grew up in Texas in the 1980s and 1990s, he found that going to church was a matter of course. After the service they could have lunch somewhere and talk about what the pastor had said.
"But even if you didn't like it, you came back the following Sunday," he says.
He does not find such an attitude in today's young people, nor the students they work with to give personal guidance at The King's College, a Christian four-year liberal arts college, across the street.
"They want more active participation and to not be consumers. They want to be heard," he says.
Skeptical of institutions
Even if the pastor were to be the best one could imagine, they believe that the traditional leadership function and the congregational model do not work in the same way in a more secularized reality. "A bigger question is what the church really is. Is it going to church on a Sunday morning, or is it living out the faith where we are in a neighborhood or community?" Kylie asks.
They believe that part of the challenge is that many people, especially young people, have become skeptical of organized religion. "The biggest challenge is not so much that we are post-Christian, but that we are post-institutional. People don't trust institutions," says Joey. He and Kylie believe this development was strengthened by the pandemic.
Closer to life
Now they live in Brooklyn and try to be part of a house church where the members share their lives and get involved in the local community. "The church must be the body of Christ everywhere, always. But it has become an event instead of a way of life," they say.
"How can Christian unity be preserved with such small units?" I ask.
"The problem of preserving Christian unity has existed for a long time," Joey says.
He has worked in a congregation with several hundred members in the past and realized that people thought very differently also about important questions.
He still believes that it can be important to bring Christians together for larger gatherings, but he believes that regular congregational life should be lived in smaller and closer communities.
Read the first article of this series here.
Tore Hjalmar Sævik works as a journalist at the Norwegian Christian newspaper Dagen. Some articles from a trip to the US this autumn were translated and republished by Religion Unplugged. The trip to the USA to write this series was supported by the Fritt Ord Foundation in Norway.