As the epicentre of the coronavirus pandemic moved from China to Europe, Latin American countries started to prepare for a potential emergency.
In a context of growing concern, not only churches have called to look to God. Politicians in several countries have also been vocal about the need to pray.
The President of Guatemela, Alejandro Giammattei, posted a message on Twitter, saying: "I ask everyone to remain calm, it is a moment to unite because we will come out of this emergency (…) May God bless Guatemala!
Former President Jimmy Morales, an evangelical Christian, supported the recommendations of the authorities and called not to repeat the mistakes made by other countries. "In these moments, we people of Guatemala should be united, leaving aside the eternal political division (…) but we also should pray continually. I confess that, during my government, the prayers of millions gave us strength and victory in times of crisis".
Morales shared the Bible verse from Ephesians 6:18: "And pray in the Spirit on all occasions with all kinds of prayers and requests. With this in mind, be alert and always keep on praying for all the Lord's people".
EL SALVADOR: "LET'S ASK GOD FOR THIS COUNTRY"
Meanwhile, the President of El Salvador, Nayib Bukele, admitted that the virus had entered the country and that stopping its advance would prove very difficult.
After announcing more urgent measures, Bukele concluded a meeting of the government by saying: "This is a secular state that allows freedom of worship, but there are many believers. I want to ask them to pray and together ask God that he helps us to overcome this illness".
"We are going to face a tribulation, but I am sure that with the help of God we will be able to go ahead. Those who don't believe in God, feel released of this", the President said, "but for those who believe, I ask you to bow our heads and let's pray and ask God for our country". After these words, all members of the government and the Republic in the room prayed together.
PARAGUAY: "TOGETHER IN PRAYER"
In Paraguay, the highest political authority also called to pray for protection. "I hope the whole people can spend time in family, in unity. We should not forget the spiritual field. One family together in prayer", said the President of the nation, Mario Abdo Benítez.
"The power of prayer, I am sure, will protect the nation. God will protect Paraguay and will continue to bless this country", he added.
Paraguayan pastor Emilio Aguero responded to the criticism of many who said it was inadequate for a head of state to call to prayer. "This is an unnecessary controversy", the evangelical leader said. "People may believe in God or not, but faith is a strong emotional support to avoid more collective psychosis. Furthermore, this [the coronavirus crisis] is a national issue, and the majority of the people, rightly or wrongly, believe in God", he argued.
Among those who reacted to the mockery of atheists on social media was also Fabricio Alvarado, the evangelical candidate who won the first round of the last Costa Rican general election but later lost the second round. "Of course we are going to pray! Why not? Many of us are praying in Costa Rica, and millions around the world. In some countries, even the Presidents have joined and ask God for wisdom. Mockery does not matter to us, we have never been ashamed of saying that our trust is in God".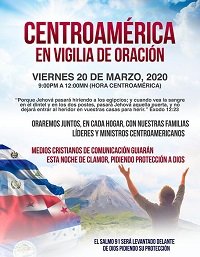 Central American prayer vigil for the situation of the Covid-19 crisis.
CENTRAL AMERICAN PRAYER VIGIL
An initiative to pray in families has been started as well. On Friday 20, from 9pm to 12pm, Christians in all Central American countries will pray from their homes, as seen "in the book of Acts".
"We will pray together, in every home, with our families", the organisers said. "Christian media will lead this night of cry, asking God for protection".