The USA religious landscape has undergone dramatic changes in the last decade, and is more diverse today than at any time since modern sociological measurements began.
The Public Religion Research Institute (PRRI) has recently released the 2016 American Values Atlas, the largest survey of American religious and denominational identity ever conducted.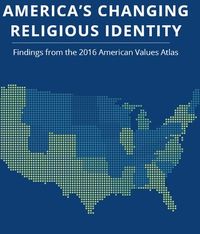 PRRI's 2016 American Values Atlas.
The report is based on a sample of more than 101,000 Americans from all 50 states and includes detailed information about their religious affiliation, denominational ties, political affiliation, and other important demographic attributes.
WHITE CHRISTIANS IN DECLINE
According to the research, white evangelical Protestants are in decline, along with white mainline Protestants and white Catholics.
White Christians, once the dominant religious group in the U.S., now account for fewer than half of all adults living in the country. Among them, fewer than one in five (17%) are evangelical Protestants, and 11% are Catholics.
Much of the decline has occurred in the last few decades. As recently as 1996, white Christians still made up nearly two-thirds (65%) of the public. By 2006, that number dropped to 54%, but white Christians still constituted a majority.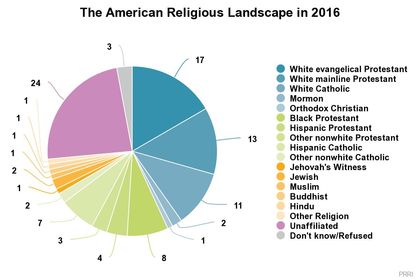 American religious landscape./ PRRI
NON-WHITE CHRISTIANS ON RISE
Not only have white Protestants experienced a substantial decline as a proportion of the general population, they also represent a shrinking proportion of all Protestants.
In 1991, 83% of all Protestants were white, compared to two-thirds (67%) today. One-third (33%) of all Protestants are now non-white.
Meanwhile, three-quarters (75%) of black Americans are Christian, with a much greater proportion are Protestant (67%), and only six percent identify as Catholic.
On the contrary, although Hispanic Americans are also predominantly Christian, they are about twice as likely to identify as Catholic (48%) than Protestant (25%).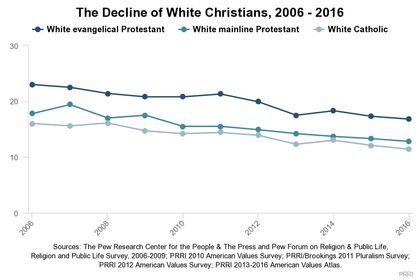 US White Christians areon decline. / PRRI
BAPTISTS, THE LARGEST DENOMINATION IN THE US
Among Protestants in the U.S., Baptists are the largest denominational family.
Roughly 32% of all Protestants identify with some Baptist denomination, at least three times the number who identify with the next largest denominational families: Methodist (10%), Pentecostal (10%), and Lutheran (8%).
On the other side, 5% identify with the Church of Christ or Disciples of Christ, the same with the Presbyterian denomination, and only 3% of Protestants belong to an Episcopalian or Anglican denomination.
Additionally, nearly one in five (17%) Protestants belong to independent Christian churches that are not affiliated with any Protestant denomination.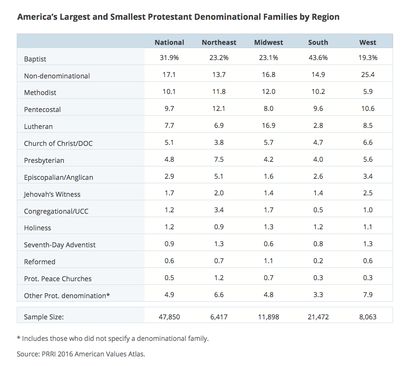 Protestant denominatons. / PRRI
"RELIGIOUSLY UNAFFILIATED": MOSTLY SECULAR
According to the study, 24% of Americans identified themselves as "religiously unaffiliated"—those who are atheist, agnostic, or nothing in particular. Since the early 1990s, this group has roughly tripled in size.
Religious identity is highly stratified by age, with younger Americans (age 18-29) most likely to be religiously unaffiliated and seniors (age 65 or older) least likely to identify this way.
However, the relationship between age and unaffiliated status is not completely linear: there is less variation in the rate of unaffiliated identity among Americans in their 40s (23%), 50s (18%), and 60s (16%).
There are notable differences among the unaffiliated in terms of their religious identity. Only 14% of the unaffiliated identify as atheist or agnostic (13%).
The majority (58%) of Americans who are not Religiously affiliated do not identify as a religious person.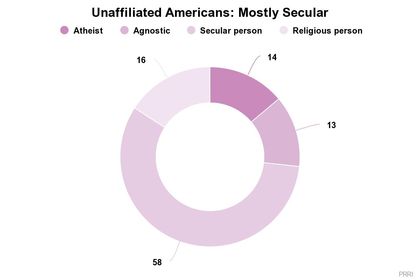 Religiously unaffiliated. / PRRI
You can see the full study here.