Nine evangelical families in Leyva Velazquez, Mexico - including 9 men, 10 women and 14 children - were expelled by local community leaders and saw their homes and properties destroyed on January 4.
This new incident was lead by the local civil and religious authorities, after the community decided to expel them during a public assembly attended by the whole population.
They not only violently persecuted the evangelicals but also burned 5 of the houses of these Christians. On Tuesday, the expelled families were temporally located in the city auditorium, to guarantee their basic needs.
Luis Herrera, spokesman of the Coordinated Christian Associations, explained that since the second half of 2015, evangelical Christians have been harassed only because of having "different faith", especially in the Chiapas region.
VIOLENCE AGAINST EVANGELICALS
Everything started in the neighbour village of La Florida, where an evangelical Christian was accused of being involved in a murderer and incarcerated. Afterwards, various Leyva Velazquez community leaders forced evangelicals to renounce their faith. After refusing to do so, the persecution started.
On the morning of January 4, armed villagers under the direction of, their leaders, destroyed the homes of 9 families.
Villagers then blocked most entrances into the town in an attempt to keep government officials from entering the village and to force the Protestants into fleeing into the nearby mountains, rather than seeking help from nearby villages.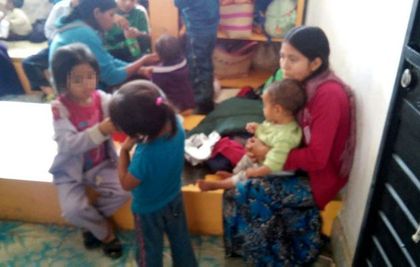 Expelled families in their temporary shelter. / Proceso.mx
The victims walked long hours until they arrived in the main village of the district, hungry, tired and freezing, asking the local authorities to help them.
They continue there, with all their needs covered, waiting for the authorities to talk with the Roman Catholic community that harassed them.
NOT THE FIRST TIME
Despite state and federal officials being notified of these illegal acts, the Mexican government continues to ignore pleas from Protestant villagers to enforce laws protecting their freedom of worship.
This is the most recent incident of repeated persecution against evangelical Christians in Leyva Velazquez, as just last month seven were arbitrarily imprisoned by community leaders, also for refusing to deny their faith and convert to Catholicism
There is a rising trend of persecution against religious minorities in rural Mexico. In June of 2015, International Christian Concern (ICC) estimated that more than 70 open cases of religious persecution against minority Christian communities, each involving between 20-100 victims, existed in the states of Chiapas, Hidalgo, Oaxaca, Puebla and Guerrero.
"We were absolutely horrified to learn that less than three weeks after imprisoning seven members of their own community for their religious beliefs, the leaders of Leyva Velazquez decided last night to completely destroy the homes of this Protestant community and drive at least 30 men, women, and children into the wilderness", Isaac Six, ICC's Advocacy Director, affirmed after the incident.
"Where is the government of Mexico? Why is no action being taken to stop the perpetrators of such blatant and violent religious persecution?", he addded.