Since the war in Syria started 10 years ago, around 600,000 people, including 55,000 children, have been killed and half the population (almost 12 million) has been displaced.
About 40% of those displaced, both in Syria and beyond, are children. For Syrian children surviving the conflict, overall life expectancy has been reduced by 13 years.
Covid-19 has made this situation even much worse. Several studies predict that the pandemic may push Syrians to the brink of mass starvation.
A report co-written by economic consultancy Frontier Economics and Christian organisation World Vision International, assesses the economic cost of the Syrian conflict and "shows the incredible loss of human capital due to a continuous cycle of grave violations against children and the shattered opportunities for future generations".
The report has three parts. The first one analyses the violations of Syrian children's rights over the last 10 years; the second one is an economic analysis, and the last part presents the results of the interviews with over 370 Syrian young people about the situation of their country and their future.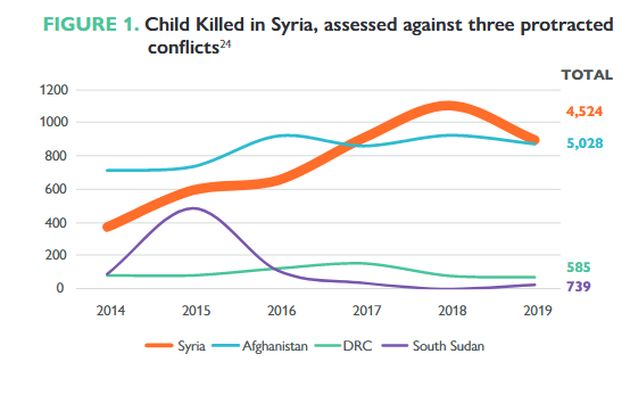 [photo_footer]Children killed in Syria since 2014. / World Vision.[/photo_footer]
Devastating attacks on children education and healthcare
Child casualties in Syria are among the highest in modern conflicts. Air strikes have been identified by the United Nations (UN) as the primary cause for child deaths.
According to the report, "attacks on education and healthcare have the most devastating direct and long-term impacts on child survival and overall socio-economic cost to Syria".
Since the first verified data in 2014, the UN has documented 700 attacks on education, including 52 in 2020. As a consequence, over 2.4 million children are out of school, nearly 40% are girls.
"Physicians for Human Rights have mapped 595 attacks against 350 medical facilities between March 2011 and March 2020. Every four days in 2019 a health facility was attacked. The COVID-19 pandemic has worsen the situation", add the authors of the report.
The recruitment of children for armed forces or groups is also a big problem. Of the over 4,000 children recruited so far, "82% of them were used in direct combat roles and 25% were under 15".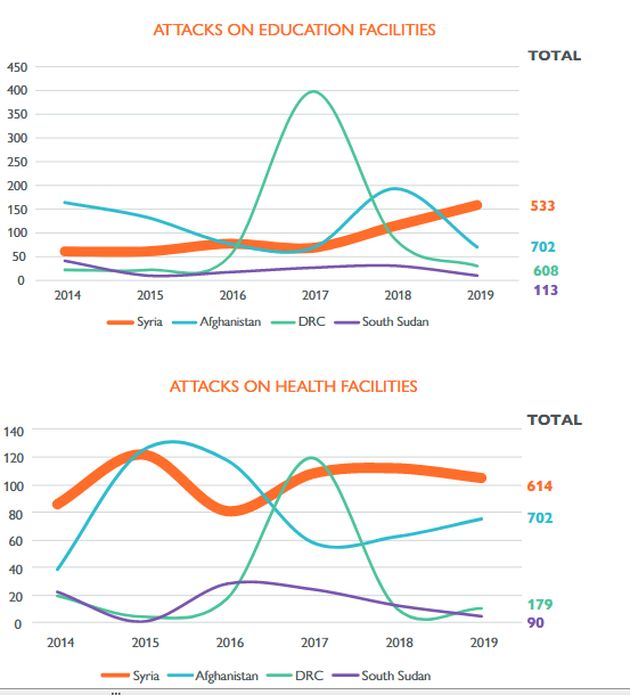 [photo_footer]Attacks on education and health facilities. / World Vision.[/photo_footer]
Furthermore, "over 1,700 children have been detained or deprived of their liberty, often for years at a time. In at least 88 of these cases, children experienced torture while detained", points out the report.
Child marriage has drastically increased and "sexual violence against children has been a disturbing and consistent feature of the conflict".
The economic cost of the war "will rise to up to nearly $1.7 trillion"
The economic analysis reveals that "the cumulative economic cost of conflict in Syria after 10 years is estimated to be over US$ 1.2 trillion, which almost equals the European Union's budget over a decade".
The report also underlines that the costs of conflict will continue to accumulate until 2035, even if the war were to stop today.
According to Frontier Economics, the economic cost will "rise to up to nearly $1.7 trillion", because "children whose education and healthcare have been negatively affected will contribute less to GDP once they are working adults".
"By depriving children of education and by damaging their health, the war jeopardises the ability of Syria to recover. More importantly, the impact of war and violence on children's psychosocial well-being is immense", warns World Vision.

[photo_footer]Economic cost of the war. / World Vision.[/photo_footer]
"Children do not want promises, but a commitment to end the war"
In January 2021, 379 Syrian children and young people in Syria, Lebanon and Jordan, aged from 16 to 20, were surveyed by World Vision. Among them, 122 are internally displaced, 144 are refugees in Jordan and 93 in Lebanon. More than half (53%) were girls or young women.
All of them said they are concern about their and their parents day-to-day lives, because of the "unquantifiable loss of learning, safety and psychosocial well-being" they experience.
Syrian children and young people pointed out that they will not be able to contribute to the recovery of the country and called for access to education and psychosocial support.
"They want the end of the war in Syria and to protect the future of the generation coming after them, which they fear is also on the brink of being lost. They do not want promises, but a concrete and realisable commitment that can help them to restore their country, their lives and their hopes", stresses the report.
"Fund sustainable solutions for children"
According to the authors of the report, "the Syrian war is an indictment of the international community and its failure to take responsibility to ensure the protection of a lost generation of children who bear the greatest cost of this conflict".
"Together with the children of Syria, we continue to call for the only viable solution: a lasting peace, accompanied by fully funded sustainable and durable solutions to realise full rights for Syrian children", adds World Vision.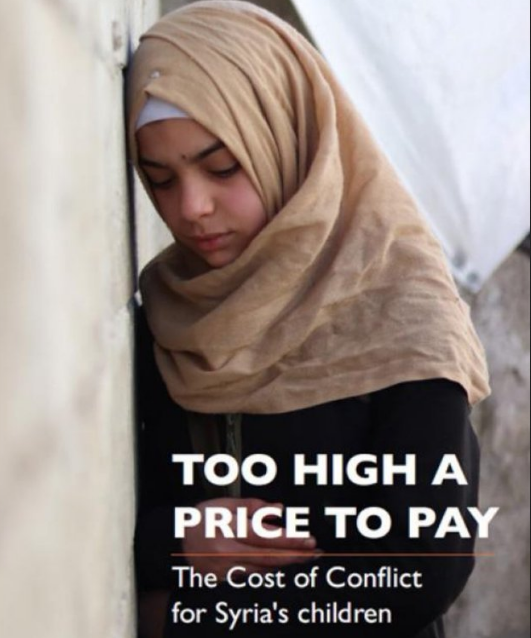 [photo_footer] The report is called Too High a Price to Pay: The Cost of Conflict for Syria's children. / World Vision.[/photo_footer]
They call on the international community to "listen to the children needs", renewing the financial commitments and investing in cash and voucher programming (CVP), which "increase the dignity of aid and empowers parents to make the most appropriate use of resources to support their children".
The report also recommends to "fully support Lebanon and Jordan Compacts", to improve the situation of local refugee workers and to help refugees to "access the formal economy".
Furthermore, they ask the international community to review how its sanctions negatively impact on civilians in Syria, and to facilitate a dialogue which develops a plan of action "inclusive of displaced children, women and youth, to guide decision-makers across the peace-building, humanitarian, human rights and development spheres in Syria".
Protection of children and refugees
In addition to these economic recommendations, the report stresses that "all parties must immediately cease grave violations against children's rights, and be held accountable by for violations they have committed".
They also call the the international community to focus on mental health and psychosocial support programs for children and "integrate them as a core component of durable solutions frameworks".
Regarding the hosting of refugees and asylum seekers, they state that governments "must uphold non-refoulement, end deportations to Syria and explicitly limit any coercive measures which incentivise return".
"The international community must step up their commitments on resettlement of Syrian refugees, especially children, in line with the Global Compact on Refugees", concludes the report.