At the end of July, Voice of Martyrs (VOM) announced the publication of the first Bible translated into both English and the North Korean dialect has been published. With North Korea being a closed country, distribution of unapproved literature is a capital offense.
Distribution via land couriers is highly dangerous and the liability for those caught doing so often results in death or forced labour … and it's even worse for those carrying Christian literature like tracts or Bibles.
That is why VOM launches large hydrogen balloons into North Korea carrying the Christian message.
They have launched everything from tracts, flyers, and the whole New Testaments translated into the North Korean dialect. In 2013, they launched 500,000 Christian flyers and 50,000 New Testaments into North Korea.
IN THE COUNTRYSIDE
Balloon launches take place in the countryside areas near the border between South Korea and North Korea where the wind current is favourable.
The balloon launch team is made up of staff and students from VOM Korea's Underground University Program. The team is "on call" and ready to go out for a launch at any time: day or night, rain or shine.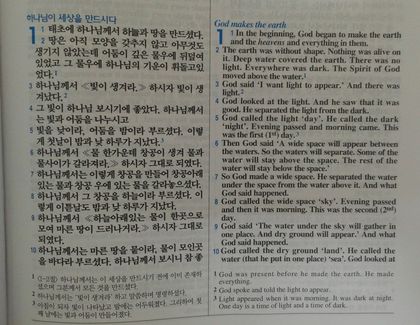 The first page of the Bible / Ha-young Choi
Although some people has criticize this method of bringing outside information into North Korea, considering it ineffective or even dangerous for Northerners caught with the materials sent in, VOM believes it is most effective ways and it shows respect for North Koreans' situation.
APP TO ENSURE A GOOD LAUNCH
A scientist in Australia has partnered with VOM to provide them a computer app that enables them to enter the full range of launch data—atmospheric conditions, wind spend and direction, hydrogen volume, payload weight.
The APP even provides the specific make and model of high-altitude balloon they are using—and receive a precise projection of where Bibles will land, before they ever leave the office.
"It is not an overstatement to say that this new app changes everything for us—while weather conditions don't make it possible for us to choose just any target, the app does make it so we can ensure that our Bibles make it into North Korea", Eric Foley, CEO of VOM Korea, explained.
The Bibles will also be distributed for free to anybody working as a North Korean missionary and for defectors. VOM stated that they will spread Christianity not only via the written word, but also via radio broadcasting and or MP3 files.
"MEETING WITH OTHER CHRISTIANS IS IMPOSSIBLE"
"In North Korea, even children are aware of the risks of possessing a Bible. Even socks, clothes or food are dangerous. People who pick up a Bible know that their choice is very risky, they could probably end up being executed", Eric Foley told NK News.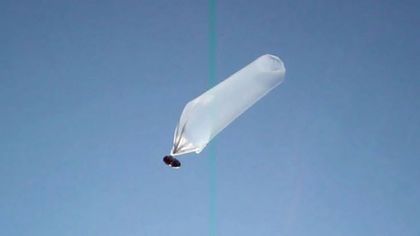 The Bibles are being sent into North Korea via balloon launches / VOM
He emphasized North Korean defectors' roles in spreading the word into North Korea, particularly their experience and understanding of North Korean society:
"Eighty percent of defectors are communicating with their families and relatives in their hometown, and this channel hasn't been used properly."
Foley also highlighted the positive influence of Christianity, stating that there is historical evidence that Christianity helped Koreans in their quest for an independent democracy.
"Like the early North Korean Christians such as Cho Man-sik and Ahn Chang-ho, reading Bibles could help promote the concept of freedom and human rights", he commented.
For the past 13 years, North Korea has consistently appeared at No. 1 on Open Doors' World Watch List, a list that notes the worst persecutors of Christians abroad.
"The god-like worship of the leader, Kim Jong-Un, and his predecessors leaves little room for any other religions and Christians face unimaginable pressure in every sphere of life," noted Open Doors.
"Meeting with other Christians is virtually impossible. Anyone discovered engaging in unauthorized religious activity is subject to arrest, arbitrary detention, disappearance, torture and/or execution."
NK REPRESENTATIVE: PERSECUTION OF CHRISTIANS? "ABSOLUTELY FALSE"
Three weeks ago, North Korea's Delegate for Cultural Relationships Alejandro Cao (who is based in Spain), said all informations about persecution of Christians inside the regime are "absolutely false."
In a dialogue on Twitter with an Evangelical Focus staff member, he attacked evangelicals, and added: "The problem in the world is that there are enlighted people like you who believe themselves to be representatives of God or even God". Read more about his denial here.