On March 23 and 24, the 'Alianza Joven' (Young Alliance) of the Spanish Evangelical Alliance celebrated in the city of Toledo a new edition of EnRed.
EnRed started as a larger youth event, but this is the fourth edition with a smaller format focused on the development of a strong and lively community among those who work with young people: youth pastors, missionaries, preachers, para-church ministries, musicians, leaders of denominations or youth movements, journalists, youtuubers, church planters, pastors, evangelists, among others.
THE BOOK OF DANIEL
Throughout the weekend, all reflections and dynamics were structured around the book of Daniel.
The journey began by framing the book historically and literarily, so that all the participants would know the context of a text that encourages to analyze one's way of living in the midst of a hostile culture.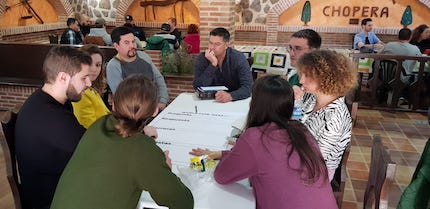 There was a lot of time to talk and work together. / Carlos Fumero
The examples and experiences of Daniel, Ananias, Misael and Azariah guided the activities of around 70 participants that came from all over Spain.
CURRENT ISSUES FROM A BIBLICAL PERSPECTIVE
A panel entitled "How to think biblically about...?" had 4 people talking about politics and citizen participation, philosophy and worldview, relations with civil society, and social media. These small talks opened the dialogue, and encouraged participants to build bridges with the biblical antecedents in the text of Daniel, applying the evangelical worldview in a relevant way to different spheres culture.
In other sessions, the youth leaders looked for answers to several current issues through a dynamic known as "World Cafe". A group discusses a certain topic, then leaves it and takes the work from others on another issues, aiming to develop it further through the questions from the group facilitators.
The final exposition of all the topics was very interesting, dealing with issues such as moral values, sexism, the meaning of life, productivity, suffering, and freedom, among others.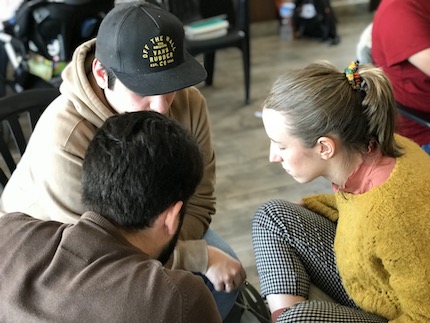 Times of prayer. / Carlos Fumero
FELLOWSHIP AND PRAYER
Besides enjoying fellowship time with coffee and walks, there was also devotional time throughout the weekend, where groups of three people spent about four hours getting to know each other and opening the Scriptures together.
Furthermore, there were inductive Bible studies and times to pray for one another, strengthening relationships, and setting aims for the immediate future.
The Young Alliance has already announced the dates for EnRed 2020.