63% of voters backed in a referendum on Sunday 9 February the inclusion of sexual orientation in the law that punishes hate crimes in matters of race, ethnicity and religion.
Despite differences between the big cities (where the "yes" won clearly) and rural areas, a majority supported the move of the Swiss Parliament, which had already passed a modification of the Article 216bis of the Penal Code.
As it happens often in Switzerland, the referendum, which also asked the population on a second unrelated issue, had a low turnout: 41%.
Around 37% voted against changes in the law, a position shared by the right wing Swiss Popular Party (the biggest force in parliament) and the small evangelical party EDU. They had called to top what they described as a "censorship law" that could put freedom of speech at risk.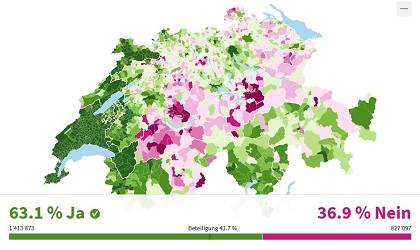 Votes by municipalities in the Februrary 2020 referendum on inclusion of sexual orientantion in Article 216bis of the Swiss Penal Code. / Graph: Tagesanzeiger
"MORE PRESSURE" ON THOSE WHO DISAGREE
Among the civil society groups that had warned against giving special protection to members of the LGBT community was the Swiss Evangelical Alliance (SEA).
"Hate is not tolerable in any form and against any person. But freedom of expression and religion must be preserved even under the tightened criminal law", the evangelical body said in a statement published after the outcome of the referendum was known.
The SEA said "we hope that the expectations of better protection for sexual minorities are fulfilled", but insisted that the "protection for all people in Switzerland was already guaranteed without this extension".
Now the SEA says fears the change in the law "will put more pressure on people who, on grounds of their religion of conscience, who want to express a critical approach in relation to certain sexual orientations or do not want to provide certain services".
"Even today values of Christians such as the protection of life and other ethical questions are fought with intolerance and even violence".
Now that the changes in the Penal Code have been passed, the evangelical body demands that the law continues to be applied in a "reasonable" way.
NEXT STOP: GAY MARRIAGE LAW?
After celebrating the victory, LGBT groups announced that their next aim was to see a "Marriage for all" law passed, giving same-sex partners the same rights as heterosexual marriages. One controversial issue could be the adoption of children.
The upcoming debate about the re-definition of marriage should be held in a context of "freedom and respect", the SEA added, a with social conversation that is "fair and based on facts".
"After all, our democratic country is characterised by allowing and integrating different opinions - and it should remain that way", it concluded.