From 27 October to 30 October 2022, 41 younger leaders and mentors met under the umbrella of the Lausanne Movement in Europe.
From over 16 nations across Europe they gathered to connect, share hearts, be prayed for and learn about Europe and what Spirit-filled leadership will mean for today.
This was the fourth European meeting after a global historical Lausanne Younger Leaders Gathering (YLG) in Jakarta 2016, where more than 1,000 younger leaders gathered from 160 nations.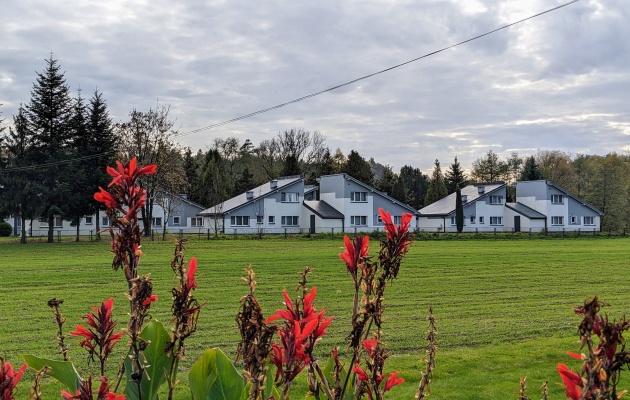 [photo_footer] The gathering was held in the premises of Josiah Venture, in Poland. / Photo: Lausanne Movement Europe. [/photo_footer]
From this global gathering regions and countries decided to hold their own younger leaders gathering. In Europe, Ole-Magnus Olafsrud from Norway and Evi Rodemann from Germany took it upon their hearts to get these gatherings started.
The team for these European gatherings consists today of 6 younger leaders of which 5 had attended the YLG in Jakarta and a mentor representing UK, France, Cyprus, Germany and Norway.
The weekend gathering got twice postponed due to Covid-19, so finally to be able to pull through (though sadly they did miss some due to the virus) and meet again was beautiful and a blessed time.
About half of the participants had heard about the Lausanne Movement and about 15 of them had been to the gathering in 2016, half were newly nominated by Lausanne leaders and trusted them enough to join this weekend.
The meeting place was the H2O center by Josiah Venture, about 2 hours from Krakow in Poland. Being situated within nature and quietness did its own work for these younger leaders.
Leading in Europe
Two themes were tackled during this extended weekend: Europe with its hopes and challenges and Spirit-filled leadership. Jim Memory and Usha Reifsnider, both from the UK, serve as the new Lausanne Europe directors and presented their insights on Europe addressing the reality, the challenges but also providing us with stories of hope where God is visibly at work in Europe.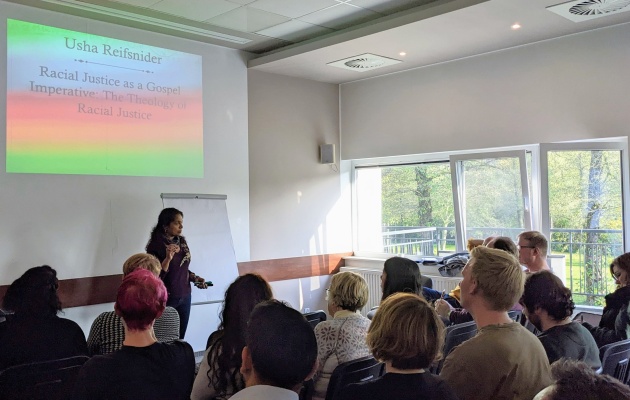 [photo_footer] Usha Reifsnider lead a session on racism and its impact in the churches. / Photo: Lausanne Movement Europe. [/photo_footer]
The migrant churches in Europe and the young people itself present a lot of reasons for hope. A highlight was Jim Memory sharing on his leadership lessons learned over the past 35 years starting with an older leader who asked him to join a boys group and deliver the Bible studies, starting with Romans. Where else would you? Usha Reifsnider challenged us in her session on racism and how this plays out also in churches, sharing some of her painful experiences as an Indian migrant coming to Europe and often having been overlooked as a female and migrant leader.
Jim wrote afterwards: "As always the most precious things were conversations with the young leaders themselves. If this is what the future of the church in Europe looks like we have reasons to be full of hope".
The other highlight was having Dave Patty, President of Josiah Venture come and deliver three powerful sessions on Spirit-filled leadership. This was Bible based and filled with personal stories. Leaders were challenged to be in step with the Holy Spirit and when he speaks, follow him step by step.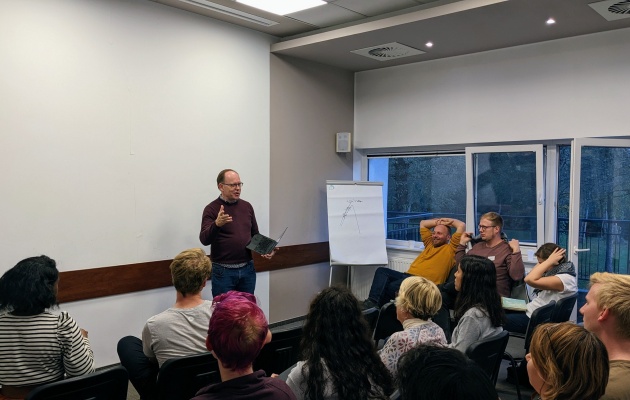 [photo_footer] Jim Memory shared about the state of Europe and chances to find hope. / Photo: Lausanne Movement Europe. [/photo_footer]
This also led to an evening to pray and intercede for Europe but also for ourselves as leaders in Europe. These gatherings are less about our work we do but about our character and relationship with Jesus Christ. He is the foundation for a shaky Europe and shaky leaders.
There were also 6 mentors present who invested into a small group during the three days to listen to their stories and pray for them. One German leader mentioned: "I had to come to Poland to cry through my 20-minute sharing in my small group and received healing and prayers". Sometimes these things happen when taken out of his or her own context and where leaders can share freely. This weekend was meant to be a safe place for leaders to be and raise their questions.
They also welcomed three Ukrainians which were sponsored by the group to attend. One came straight from Kiev and used the time to rest and be refreshed.
In reflection, a younger leader from Serbia wrote afterwards: "We spent a long weekend together, learning and strategizing on how better to share the Gospel of Jesus in this rapidly changing, very divided society. I had roommates from Iraq, Turkey, Germany, Austria and the Netherlands. I know it sounds like the beginning of a joke, but it was a great experience. I especially loved my small group".
In 2023 the YLG Europe team will offer another gathering for younger leaders. For more info, visit Lausanne Movement Europe's website.
[donate]