The percentage of people at risk of falling into poverty has been dropping steadily in Europe, but the economic crisis caused by the Covid-19 pandemic may revert this situation soon.
According to the analysis of European Data Journalism, the figures of 26 of 32 countries in the continent show an improvement in the economic conditions of its citizens. The percentage of population earning under 60% of the median income has decreased between 2013 and 2018.
The only countries that have not experienced an improvement are Finland, Netherlands, Estonia, Norway, Switzerland and Luxembourg.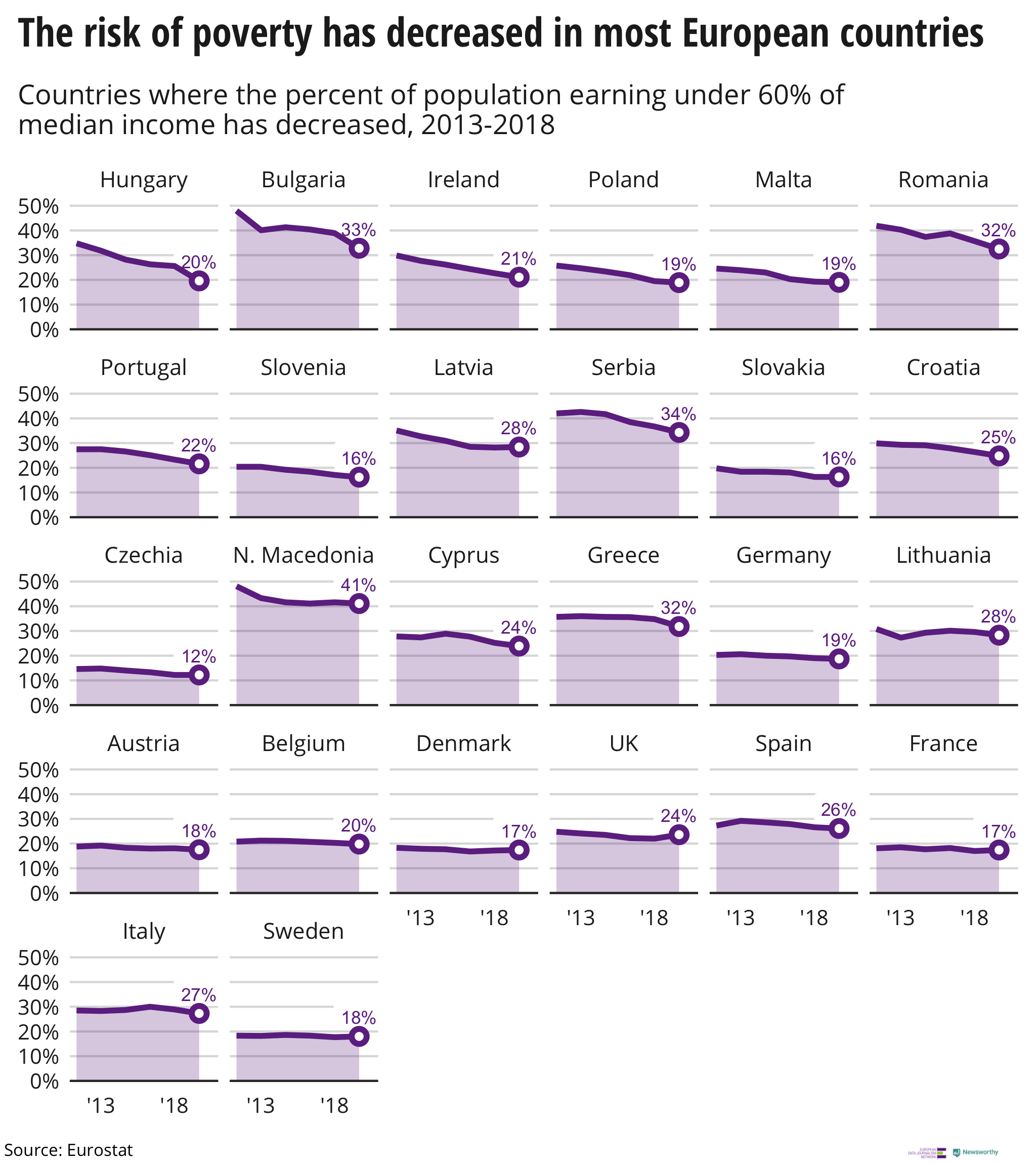 [photo_footer] Graph: European Data Journalism / Data: Eurostat [/photo_footer]
The biggest improvements are seen in Eastern European countries such as Bulgaria, Hungary and Romania. But the good general trend cannot hide that there is much work to do in several Eastern and Southern nations where around one third of the population continues to be at risk of falling into poverty.
Internal inequalities
The issues are better understood if the situation of regions is analysed. Spain has the biggest internal differences, with regions such as Extremadura and Andalusia with much higher risk of poverty than the urban areas of Madrid of Catalonia.
Similar is the case of Italy, where the north-south divide continues to be an unresolved issue. The high risk of poverty in Sicily, Calabria and Campania, contrasts with the much better position of South Tyrol, Emilia-Romagna and Veneto.
Covid-19 crisis likely to put an end to improvements
Although it is yet soon to evaluate the economic impact of the pandemic on the people, the first 2020 figures of unemployment in several countries show a stark loss of jobs.
Eurostat estimates that "15.990 million men and women in the European Union were unemployed in September 2020. Compared with September 2019, unemployment rose by 1.811 million in the EU".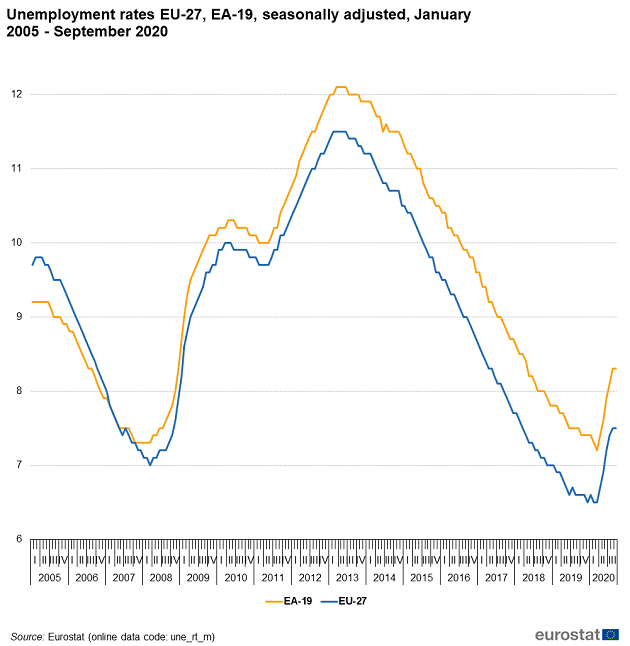 [photo_footer] Graph and data: Eurostat [/photo_footer]
This rise in loss of jobs during 2020 puts an end to the positive trend of the last 7 years.
Economists foresee an even more difficult situation for many Europe citizens and families in 2021, which will further increase the percentage of people at risk of poverty.