For the first time, the France Football magazine, which organised the Golden Ball every year, has created the Yachine Trophy, named after the former Soviet Union goalie Lev Yashin, to reward the best goalkeeper of the year.
The winner of this new award has been Alisson Becker, current goalkeeper of FC Liverpool and the Brazilian national team, who is a Christian.
In his acceptance speech, Becker thanked "my family and my wife, who support me wherever I go, my parents, they are in Brazil, and I think they are watching me, and God. It is a great honor that He is giving in this 2019, winning the Champions League and some individual awards".
"I don't feel lucky, I feel blessed and grateful for what He did in my life and in my family life", he added.
The goalkeeper posted his photo with the Yachine Trophy on Instagram, with the hastag #Godisgood.
The goalkeeper also posted his photo with the Yachine Trophy on Instagram, with the hastag #Godisgood.
SHARING HIS FAITH
This is not the first time Alisson Becker pulicly testifies about his faith in key events of his career.
Following Liverpool's 2-0 victory over Tottenham in the UEFA Champions League final, the Brazilian soccer star ripped off his jersey to reveal a white shirt with a drawing showing a cross and a heart: "Cross = Love".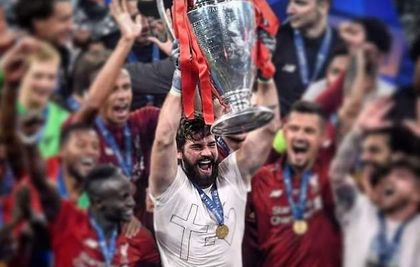 Becker publicly showed his faith after winning the UEFA Champions League. / Instagram Alisson Becker.
He also praised God on social media when he got his first chance to play in a World Cup.
"IF YOU BELIEVE IN GOD, YOU PUT LOVE IN EVERYTHING YOU DO"
In an interview for his previous team Roma's website, he pointed out that he doesn't have any pre-match routines, "the only thing I do is point to the sky. I'm a Christian, so I'm not a superstitious person".
When asked if he had any advice for future goalkeepers, he said: "If you want to be a great keeper, you need to work very hard. That's what I do. And I think faith is important too. If you believe in God, you know you have to do your best on the pitch and put love into everything you do in life".