Brazilian football star Kaka announced he has decided to put and end to his career.
The World Champion (2002) will not longer accept offers to play as a professional. He is now 35 years old.
In his announcement on Twitter, he posted a photo of himself on his knees and lifting his hands, wearing a t-shirt which reads: "I belong to Jesus".
The post said:
"Father, it was much more than I could ever imagined. Thank you! I'm now ready for the next journey. In Jesus' name. Amen".
Social media users retweeted the post more than 34,000 times.
A SUCCESSFUL PLAYER
In 2002, Kaka won the World Cup with Brazil, and he has won two Confederations Cups with hi country (2005, 2009).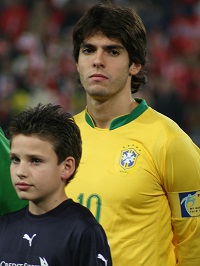 Kaka won the World Cup with Brazil. / WIkimedia (CC)
He won the Champions League with AC Milan (2007) and the Club World Cup (2007). He won the Spanish La Liga with Real Madrid (2012) and the Italian Serie A with AC Milan (2014). He also was awarded with the Ballon D'Or (2007) and the FIFA World Player (2007).
KAKA'S CHRISTIAN FAITH
Ricardo Izecson dos Santos Leite, known as Kaka, attended an evangelical church with his parents for much of his life. When he was 12 years old, he decided to follow Jesus, "I had an experience with God", he explained.
Some years ago, he explained in an interview: "I do whatever is in my hands, but the fruit comes from God. He is the tree, I am only a branch".