Christian leaders mourned the victims of the deadliest mass shooting in recent U.S. history and expressed sympathy for the gay community, the target of the Orlando shooting suspect, Omar Mir Seddique Mateen, who swore allegiance to Daesh minutes before the massacre.
Russell Moore, president of the Ethics and Religious Liberty Commission of the Southern Baptist Convention, wrote on his blog: "let's call our congregations to pray together. Let's realize that, in this case, our gay and lesbian neighbours are likely quite scared. Who wouldn't be?"
"Demonstrate the sacrificial love of Jesus to them. We don't have to agree on the meaning of marriage and sexuality to love one another and to see the murderous sin of terrorism," Moore added.
CHRISTIAN LEADERS RESPOND

Like Moore, many other Christian leaders issued statements to express grief:
"Our hearts and our prayers go out to the loved ones of those who were killed and wounded in what appears to be a terrible act of Islamic terrorism", Richard Land, president of Southern Evangelical Seminary, affirmed.
Pastor Miles McPherson of The Rock Church in San Diego, said, "Our hearts grieve with all the family and friends of those effected by today's tragedy in Orlando. May America's most deadly shooting be matched by America's most focused prayers for peace and unity."
Gordon Robertson, the CEO of the Christian Broadcasting Network, also issued a statement. "There is no justification for this terrible act of violence. All people, regardless of sexual orientation, have the absolute right to be secure and live safely in the United States of America … We also commend the Orlando Police and the FBI for their swift response, ending this nightmare and saving the lives of those they could."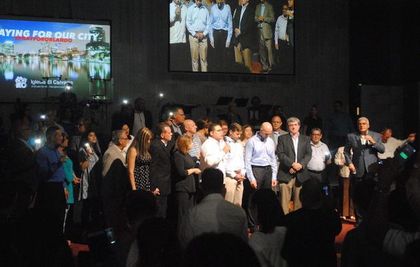 Orlando Major participated in a vigil after the tragedy
"TRUTH AND LOVE"
Christian apologist Nabeel Qureshi wrote in the Ravi Zacharias International Ministries (RZIM) webpage that as "an ex-Muslim who loves America and my Muslim family, my heart is hurting beyond expression."
"How can we understand this dilemma? How do we not react against all Muslims despite the fact that Islam has always taught such violence? ", he wondered."My answer is simple: truth and love [...] I think we must respond with a love grounded in truth and self-sacrifice, reflecting the person and heart of Jesus Christ. After all, he died not slaughtering his enemies, but forgiving them. And Christians are to follow in our Savior's steps", Qureshi said.
"IT GOES AGAINST EVERYTHING WE STAND FOR AS CHRISTIANS"
"Today's deplorable act of terrorism goes against everything we stand for as Americans and as Christians," Rev. Samuel Rodriguez, president of the National Hispanic Christian Leadership Conference, said in a statement Sunday.
"We call upon all Americans to come together for the purpose of building a firewall of love, grace, truth and respect against intolerance, hatred, bigotry and violence", he concluded.
ANGLICAN ARCHBISHOPS RESPONSE
The two most senior Anglican clergy have called on Christians to "speak out in support of LGBTI people" and said it is an "absolute call" on Christian discipleship to support persecuted gay people around the world.
The statement in response to the Orlando shootings was released on Monday by the Archbishops of Canterbury and York and says Christians must "love without qualification."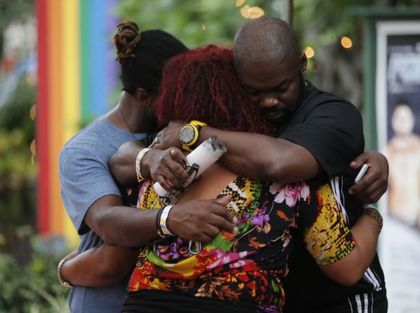 People embrace following a candlelight vigil at the Parliament House
The archbishops said: "The obligation to object to these acts of persecution, and to support those LGBTI people who are wickedly and cruelly killed and wounded, bereaved and traumatised, whether in Orlando or elsewhere, is an absolute call on our Christian discipleship.
DAESH AMAQ NEWS AGENCY CLAIMED RESPOSSIBILITY
Omar S. Mateen, who killed 50 people and injured 53 others in an Orlando gay nightclub Sunday morning before being shot dead by a SWAT team, had made "inflammatory comments" to co-workers alleging possible "terrorist ties" in 2013, Ron Hopper, head of the FBI in Orlando told Al Jazeera
The FBI interviewed Mateen twice, apart from carrying out separate interviews with other witnesses. "Ultimately, we were unable to verify the substance of his comments, and the investigation was closed," Hopper said.
Mateen, of Fort Pierce, Florida, who was born in New York, swore allegiance to the leader of Islamic State, Abukr al-Baghdadi, in a 911 call moments before the shooting at the Pulse nightclub, according to NBC News, which quoted Mateen's father as saying that his son was furious after he recently saw a gay couple kissing in front of his family.
Daesh's Amaq news agency claimed responsibility for the attack Sunday.
"The armed attack that targeted a gay night club in the city of Orlando in the American state of Florida which left over 100 people dead or injured was carried out by an Islamic State fighter," Amaq said, according to Reuters.