Countries around the world celebrate on 8 March the International Women's Day, a holiday that first originated in the universal suffrage movementand later became a broader celebration of the rights and contributions of women adopted by the United Nations in 1977.
The Women's Commission of the World Evangelical Alliance called Christians around the world to "recognize and appreciate the contribution and worth of women and girls" on this day.
Amanda Jackson, who chairs the commission, said: "The Church is taking more notice of the concerns of women, but women in churches tell me they are exhausted emotionally and physically after two years of Covid. They yearn to have a voice".
In countries like Bangladesh, celebrating such a day gives a chance to talk about basic forms of freedom, says Martha Das, Secretary General of the country's evangelical movement. "Until all women are treated as human beings created in the image of God, we need to observe International Women's Day", she commented.
Also in Latin America, the reality of "marginalization and abuse" is still very visible, says Fatima Oliva Roca. "The Bible exhorts us to speak on behalf of the voiceless, and for the rights of all who are vulnerable (Proverbs 31:8)".
In this sense, a network of Christian experts to end domestic abuse has been created (CNEDA) to "share resources and practical ideas as well as Biblical materials on healthy relationships. The need is great. Despite domestic violence laws in many nations and growing public awareness, abuse is still rising, and 904 women die every week at the hands of abusive ex/partners", says the WEA's Women Commission.
Amanda Jackson encourages evangelical churches "not to just take women for granted" but to "take time to recognize their gifting" in all areas of ministry.
A "Call to all Christians" issued in 2019 by a group of women linked to the Lausanne Movement and the World Evangelical Alliance is available to download in 10 languages. The manifesto includes awareness, attentiveness and action, and concludes with these words: "We call on men and women of the global Church to act so that women, men, girls and boys can all embrace their spiritual giftings to strengthen the work of the Church, and Her witness to the glory of God". (download in English here).
[analysis]
[title]
National initiatives
[/title]
[photo]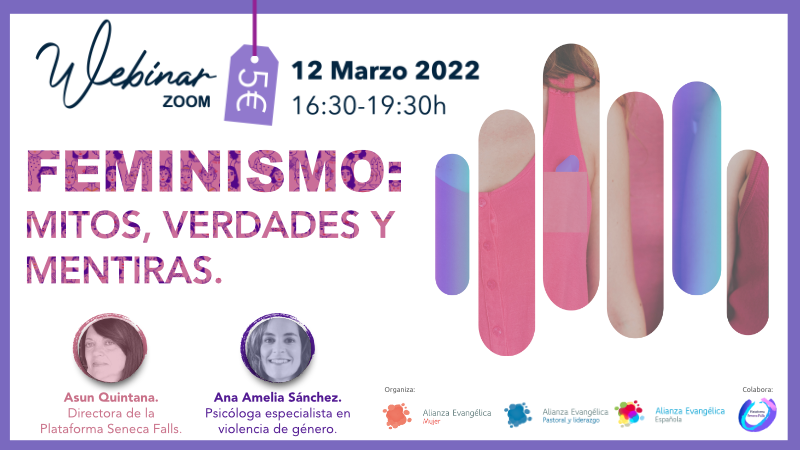 [/photo]
[text]
Among the thousands of events organised for the International Women's Day, there are national initiatives led by evangelicals such as webinar on
"Feminism: myths, truths and lies"
by the Women and Society Working Group of the Spanish Evangelical Alliance. The pastor and philologist Asun Quintana will speak on "the
equality of man and woman in the Bible
, Jesus and women, and a short history: Reformation, Seneca Falls, and Biblical feminism". Psychologist and gender violence expert Ana Amelia Sánchez will explore other concepts like "stereotypes, education and the day to day in churches".
[/text]
[/analysis]