Reporters Without Borders (RSF) has released its annual round-up, which analyses the violence and abuse suffered by journalists worldwide in 2021.
Compiled by RSF every year since 1995, the annual round-up includes professional journalists, non-professional journalists and media workers.
"We gather detailed information that allows us to affirm with certainty or a great deal of confidence that the death, detention or abduction of a journalist was a direct result of their work", explain the authors of the report.
According to RSF, 46 journalists were killed, 488 have been detained, 65 held hostage,and 2 missing, until 1 December 2021.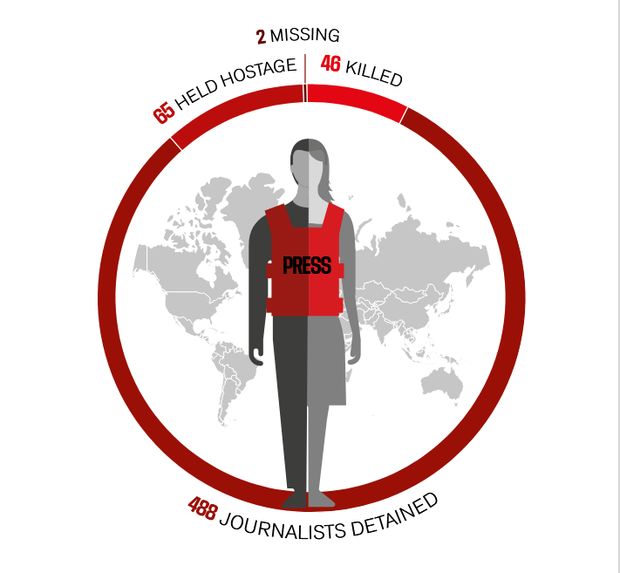 Lowest number of killings in 20 years
"A striking feature of this year's round-up is the fall in the number of journalists killed in connection with their work. You have to go back to 2003 to find another year with fewer than 50 journalists killed", points out RSF.
They state that the reason is "a decline in the intensity of conflicts in Syria, Iraq and Yemen and and the stabilisation of war fronts, after the particularly deadly years of 2012 and 2016".
Despite this fall, an average of nearly one journalist a week is still being killed in connection with their work. Furthermore, RSF says that "65% of the journalists killed in 2021 were deliberately targeted and eliminated".
Mexico and Afghanistan are the two deadliest countries for the second year in a row, with seven and six journalists killed, followed by Yemen and India (4) and Pakistan (3).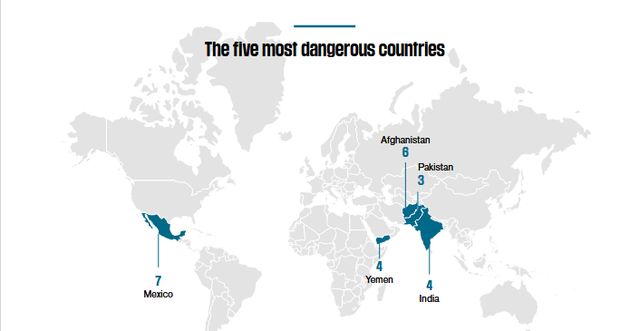 A record number of detained journalists
The 488 journalist, a 20% increase in one year, detained as on 1 December mark the highest number ever recorded by the organisation. Among them, 103 are activists who express their views on social media.
Furthermore, RSF had never registered such a high number of detained female journalists: "60 are currently in prison, a third more than in 2020. Women now represent 12.3% of detained journalists, nearly double what it was four years ago (6.6%)"
"This exceptional surge in arbitrary detention is mostly attributable to countries whose governments are indifferent to their citizens' yearning for democracy. The magnitude of these figures is also indicative of an increasingly relentless crackdown on independent media", stresses the report.
RSF secretary-general Christophe Deloire underlines that "it is a reflection of the reinforcement of dictatorial power worldwide, an accumulation of crises, and the lack of any scruples on the part of these regimes".
"It may also be the result of new geopolitical power relationships in which authoritarian regimes are not being subjected to enough pressure to curb their crackdowns", he adds.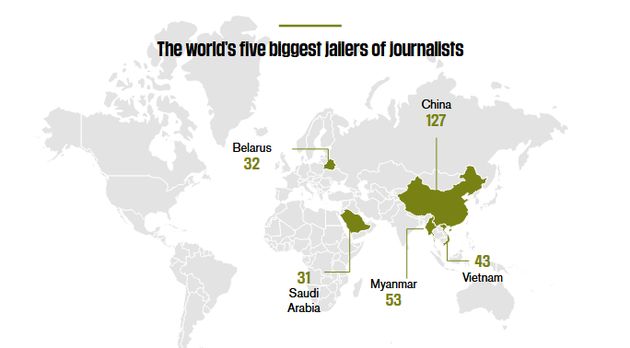 China first, Belarus and Myanmar, highest growth in detained journalists
The "world's top five jailers of journalists" are China (127), Myanmar (53), Vietnam (43), Belarus (32) and Saudi Arabia (31).
"China keeps its title of the world's biggest jailer of journalists for the fifth year running. Myanmar and Belarus are the list's only two new members in 2021. They replaced Egypt, which released 21 journalists before arresting others", explains the report.
The highest growth has taken place in Myanmar, which has been under military control since the coup last February, with 51 more detained journalists than in 2020.
Meanwhile, in Belarus, where protests against the re-election of Alexander Lukashenko have led to violence and all kinds of arrests, 32 journalists, more female (17) than male (15), are now imprisoned, compared to seven a year ago.
According to RSF, "while the number of journalists detained in mainland China fell slightly in 2021, Xi Jinping's increasing control over Hong Kong contributed to an overall 2% increase".
"In this special administrative region, which used to be a regional model of respect for press freedom, and which had no imprisoned journalists, the national security law imposed by Beijing in 2020 has been used as a pretext for arresting and detaining at least 10 journalists", they add.
65 journalists held hostage
At least 65 journalists and media workers are currently held hostage, two more than last year. All of them were abducted in three Middle Eastern countries: Syria (44), Iraq (11) and Yemen (9), except Olivier Dubois, a French journalist who was abducted in Mali in 2021.
Despite the rise in the number of hostages, RSF reports that four Yemeni journalists were freed, as was Bilal Abdul Kareem, the US founder of the propaganda media outlet On the Ground News (OGN), who had been kidnapped by the Jihadi group Hay'at Tahrir Al-Sham (HTS) in northern Syria.
Two journalists reported missing in 2021
"The two journalists who disappeared this year are both from Sonora, a state in northwestern Mexico that borders the United States. Sonora's high levels of organised crime activity and corruption make it especially dangerous for the media", points out ESF.
Furthermore, none of the 5 journalists who reported missing in 2020 has been found, bringing the total number of disappearances reported by RSF since 2003 to 46.