Colombian footballer Juan Guillermo Cuadrado has presented his autobiography, Panita, "a story of self-improvement in which not everything depends on us, human beings".
Cuadrado has been a key player for Colombia, and started against Argentina in the semi-finals of this summer's Copa América 21 (America Cup). Colombia lost in the shootout and could not acces the final. Argentina won the cup against Brazil on 11 July.
The book recounts Juan Guillermo's tough beginnings in football, and the several times he was rejected before turning professional.
Cuadrado reviews his difficult path, which began at a very young age, taking a bus from the city of Apartadó to Barranquilla, to participate in a scouting test in which he was rejected.
In 2006, when he was 18, he travelled to Buenos Aires to try out for several Argentinian clubs, but he was also rejected by all of them. "We warned you" , he recalls in his book being told by the scouts of Boca Juniors and River Plate (the two major Argentinian football clubs). He was even rejected by a semi-professional fourth division team.
Professional career
On his return to Colombia, he started playing for a couple of lower division teams. From then on, his performances attracted the attention of the country's big clubs, until he signed for Independiente de Medellín in 2008 and, from there, arrived in Europe with the Italian team Udinese Calcio.
He then spent a year on loan at Lecce before joining Fiorentina, where he attracted the interest of the continent's top clubs and was finally transferred to Chelsea in England.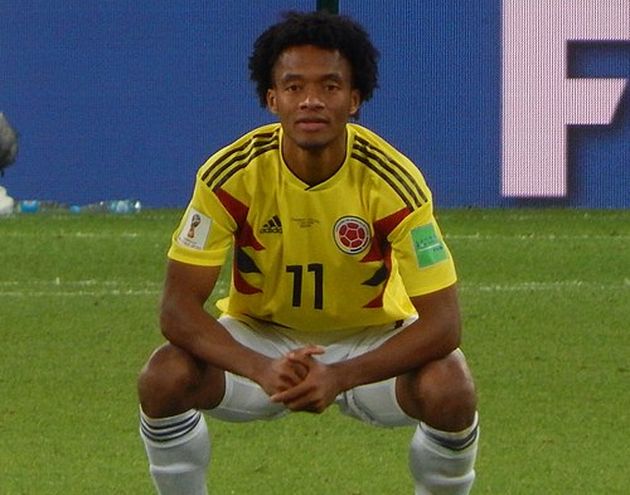 [photo_footer]Juan Guillermo Cuadrado playing for Colomia national team at FIFA World Cup 2018. / Voltmetro.Wikimedia Commons. [/photo_footer]
The now Juventus player recalls in his autobiography that "I got to the point where I had to decide whether to eat lunch or dinner at night, because I couldn't afford both. I decided to eat around four o'clock in the afternoon, and drink water in the evenings".
"Hunger, the cold, the weight of loneliness and the 'no's' I had received cornered me as the months went by. However, I kept training wherever I could, walking there, running there, asking around, looking for other trials", adds Cuadrado.
'His grace gave me the strength to counter the difficult moments'
In the presentation of his autobiography, Cuadrado also highlighted the importance of his Christian faith in facing the most difficult moments of his life. "It's easy to get there. That's 1%, but 99% is to stay. God has given me the talent and discipline to achieve dreams and goals that I had since I was a child".
The footballer thanked God "for putting me in a place I never imagined".
"His grace and favour in sustaining me have given me a strong mentality to be able to counter those difficult moments. All things are possible for those who believe", concluded Cuadrado.