The European Commission chief, Jean-Claude Juncker, has said he feels "betrayed" by the "egotism" shown by Greek politicians in failed debt talks.
In a news conference, he commented that Greek proposals were "delayed" or "deliberately altered" and the Greek people "should be told the truth", but the door was still open to talks.
European stock markets saw big falls on Monday after the weekend's events. The negotiations were not "a game of liar's poker", Mr Juncker said. "Either all win or all lose".
He explained that the talks were broken "unilaterally" after the Greek Prime Minister Alexis Tsipras announced that he was calling a referendum for 5 July.
Mr Juncker said that he still believed a Greek exit from the euro was not an option and insisted that the creditors' latest proposal meant more social fairness.
He also suggested that Alexis Tsipras was lying to his people about cuts in wages and pensions.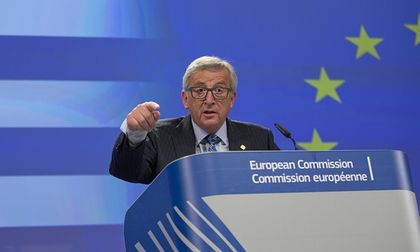 The European Commission chief, Jean-Claude Juncker. / Reuters
And the message was clear: "vote 'yes' to our proposals and we'll support you. Vote 'no' and you'll probably get kicked out of the euro". Mr Juncker also said any criticism aimed at him or other senior politicians in the creditor institutions was unjustified. It was an emotional appeal from the heart.
The Greek government responded to Mr Juncker's comments by saying: "An essential element in indicating good faith and reliability in negotiations is sincerity."
GREEK BANKS AND STOCK EXHANGE CLOSED
On Saturday, the European Central Bank (ECB) decided not to extend emergency finance to the Greek banks, after the breakdown of talks on giving heavily indebted Greece the last payment of its international bailout.
Following the ECB announcement, Greece said its banks would remain shut until 6 July. Cash machines are now reopening, but customers can withdraw only limited amounts.
On Friday, Tsipras said his leftist-led government had decided a package of austerity measures proposed by the country's creditors – made in a last-ditch effort to avert default – would be put to popular vote. The referendum will take place on Sunday 5 July.
A critical deadline looms on Tuesday, when Greece is due to pay back €1.6bn to the International Monetary Fund (IMF) - the same day the bailout expires. There are fears of a default and a possible exit from euro.
The Athens stock exchange is also closed as part of the measures.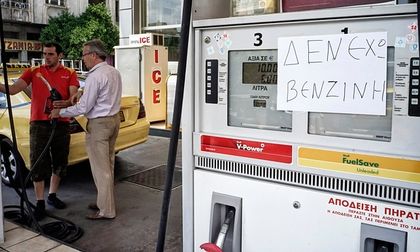 A notice at a petrol station reads "No Fuel", in Athens. / Getty Images
EUROPEAN REACTIONS
Francois Hollande and Barack Obama said they will work together to help restart talks with Greece, according to an aide to the French president.
The US president and Germany's Angela Merkel discussed Greece yesterday, while US Treasury secretary Jack Lew spoke with Greek PM Alexis Tsipras.
The French cabinet met on Monday in an emergency session. President Francois Hollande said afterwards that a deal was still possible if the Greeks wanted it.
"There are a few hours before the negotiation is definitively closed, in particular for the prolongation of the Greek aid programme. "I wish, if the Greeks, if their government, so decide, that talks resume", headed.
Hollande also warned that Sunday's referendum is a choice between staying in the Eurozone and taking "the risk to leave it."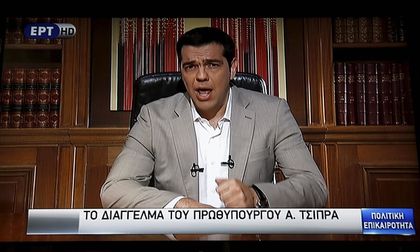 Greek Prime Minister Alexis Tsipras addressed the nation on TV. / Reuters
Italy's Prime Minister Matteo Renzi has added his weight to those warning that Greece is voting on its Eurozone membership on Sunday.
German Chancellor, Angela Merkel, said EU leaders had made compromises in their offer to Athens to tackle the debt crisis, but it became clear that the Greek government was not willing to do the same. However, she promises that "everything necessary will be done to protect the euro."
Mrs Merkel added Greece has been given a generous offer and that if the Greek government seeks more talks after Sunday's referendum then Germany would not object.
Spanish Finance minister, Luis De Guindos told reporters Spain will be able to cope with the Greek crisis.
"The position of our banks, our fiscal position, economic growth, competitiveness, the evolution of the economy ...These are the main guarantees for the Spanish economy. We have never been so prepared for these circumstances and much better than three years ago".
Europe's stock markets ended the day sharply lower as the crisis in Greece escalated. The DAX 30 in Frankfurt shed 3.6%, the CAC 40 in Paris fell 3.7%, while the FTSE 100 in London closed down almost 2% at 6,620. Asian markets have had lots too.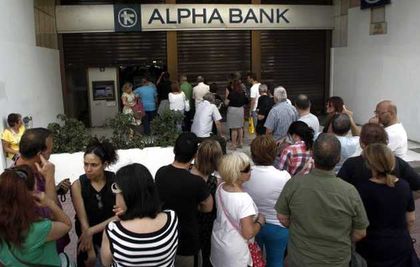 We do no have money, greeks said. / EFE
"WE DO NOT HAVE MONEY"
Athens resident Ilia Iatrou says the situation is "unbearable". "My mother-in-law queued up for over an hour at the cash point just to be able to withdraw a small amount of money, he told BBC news.
"My neighbours and I have now resorted to a sort of barter system among ourselves because we have no money left, we can't take any more of this, so we have to keep saying no to the EU masters", he added.