Unexpectedly, religion has sneaked into the electoral debate in the United Kingdom, after several representatives and leaders of different faiths have made statements in public valuing the character of the main candidates of the December 12 elections.
The first to speak was the Chief Rabbi of the British Orthodox Jewish community, Ephraim Mirvis, who pointed out that "a new poison, sanctioned from the very to, has taken root in Labour party.
He said it was not "his place to tell people how to vote", but argued that "the way in which the Labour leadership had dealt with anti-Jewish racism was incompatible with the British values of which we are so proud – of dignity and respect for all people".
FALCONER: "WE DESERVE CHIEF RABI ATTACK"
These declarations did not go unnoticed and generated reactions, both within the Labour party and in other faiths.
"We deserved an attack that strong, we need to deal with anti-Semitism properly. I hope that the Chief Rabbi's absolutely extraordinary, but justified, intervention will be listened to by my party", Labour's Lord Falconer, told BBC.
The Archbishop of Canterbury, Justin Welby stressed that "that the Chief Rabbi should be compelled to make such an unprecedented statement at this time, ought to alert us to the deep sense of insecurity and fear felt by many British Jews".
LABOUR PARTY RACE AND FAITH MANIFESTO
Mirvis's declarations coincided with the presentation of the Race and Faith Manifesto of the Labour Party, which "represents our unshakeable commitment to challenge all inequality and discrimination in our society and to defend the rights of all ethnic minority and faith communities", Labour party leader, Jeremy Corbyn, said.
"In our government, our door will be open to all faith leaders to come and talk to us, and make representations on behalf of their communities", Corbyn added.
HINDU COUNCIL UK SUPPORTS MIRVIS
In a letter to Rabbi Mirvis, Anil Bhanot of Hindu Council UK, expressed his support, stating that "we at the Hindu Council UK, concur that Labour has increasing[ly] become anti-Semitic and anti-Hindu".
"Jeremy Corbyn always speaks against Islamophobia, whereas any anti-Semitic and anti-Hindu positions remain unchallenged", he added.
According to Bhanot, "it is a sad state of affairs that a major political party in our country, which used to be a progressive socialist voice, has veered towards what almost is a fascist ideology".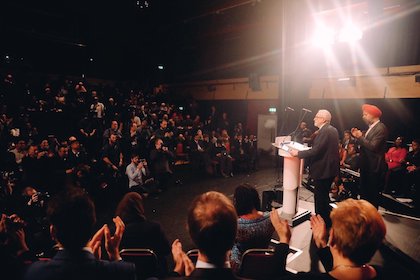 Jeremy Corbyn has presented theRace and Faith Manifesto of the Labour Party. / Twitter @jeremycorbyn
"ISLAMOPHOBIA IS AN ENDEMIC PROBLEM WITHIN THE CONSERVATIVE PARTY"
A few hours after Mirvis' statement against Labour, the representative of the British Muslim Council, Miqdaad Versi, told the BCC that "unfortunately Islamophobia is a serious problem, it's endemic, it's institutional within the Conservative Party".
Versi accused Boris Johnson of "not taking any action" and pointed out that that is "a structural problem within the party".
EAUK: "MAY WE BE RECOGNISED AS JESUS DICIPLES IN THIS ELECTION"
Since the announcement of the new elections , the UK Evangelical Alliance (EAUK) has published different resources in its website, such as articles with the different parties policies, opinion articles, devotionals, and a weekly prayer plan "to aid us in our intercession in the run up to the General Election".
The EAUK "passionately believes that, in this political moment of uncertainty and highly charged political rhetoric, Christians can and should engage in politics, but we are also aware of some of the challenges many of us may encounter".
"We can't tell you who to vote for or whether to back Brexit (deal or otherwise), but we will seek to encourage and equip you in your Christian witness in this topsy-turvy, highly charged and unprecedented political moment", they added.
According to Danny Webster, who is in charge of EAUK media relations and oversees advocacy programmes and projects, "God's kingdom gives us a faith-filled perspective beyond the momentary turbulences of our current time".
"Above all else we are called to love one another as Christ first loved us. That should focus our approach to politics, our policy priorities and our practice as we engage in the political process", he underlined.
"When we debate, discuss and disagree in this election season, may we be known by the love we have for each other, may we be recognised as Jesus' disciples", the EAUK concluded.