Despite coming first and second, the European People's Party and the Social Democrats lost the control over the European Parliament.
The two main centre-right and centre-left blocs lost around 40 seats each.
The outcome of the 23-26 May vote forms a more plural parliament, in which traditional parties lose power in favour of liberal parties, environmentalists and nationalistic parties.
The turnout (just over 50%) was the highest in 20 years, showing a growing interest in European affairs in many countries.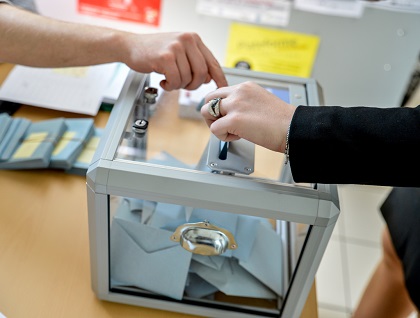 A citizen votes in the European Parliament election in France. / B. Hase, European Parliament
GROWTH OF THREE ALTERNATIVES
Voters in the 28 European Union countries supported the pro-EU ALDE group (Liberals), which grew 40 seats across Europe to become a key force for the 2019-2024 term in Brussels.
The environmental crisis and the mobilisation of many young people strenghtened the Green parties, which won 20 seats.
Meanwhile, forces which gather nationalist parties did not fulfil their expectations, despite strong support in France, Italy, Hungary and Poland. Their combined strength of 170 seats will not be enough to shape the decisions of the 751 seats European Parliament.
In the UK, which is expected to shortly leave the European Union, the Brexit Party won the election (31% of the vote), but pro-EU parties (known as 'Remainers') also celebrated good results.
EVANGELICALS: HUMAN RIGHTS AND DIALOGUE
The European Evangelical Alliance had called all Christians to vote and pray for a future parliament formed by MEPs who would prioritise dialogue, Human Rights (including religious freedom), Biblical values, justice and peace.
Results and new 2019-2024 European Parliament: