On May 3, the terrorist group ETA put an end to its violent history with a long-awaited statement.
The criminal organisation informed of its definitive disbandment and the cessation of all its activities, without mentioning the victims. In Cambó (France), a special event visibilised the end of the organisation, with the participation of representatives of some political parties and international observers. Many others refused the invitation.
FIFTY YEARS OF VIOLENCE
ETA members killed 853 people dead, kidnapped 79 (12 of them murdered) and injured 6,389 in its five decades of history.
The activity of ETA shaped to a large extent the social and political scene of Spain, especially in the last two decades of the 20th century. Terrorism was then the biggest cause of concern among the Spanish population.
The announcement was preceded by several announcements of truce and an effective ceasefire in 2011.
"A HISTORICAL EVENT"
"We are facing a historical event, very important for all Basque society", Unai Arretxe, evangelical pastor and vice president of the Evangelical Council of the Basque Country, told Spanish news website Protestante Digital.
"The announcement of the disbandment of ETA is an unprecedented act, and this time it seems that it is a definitive closure, something that my parents' generation did not know if they would see".
Jaime Ardiaca, evangelical pastor in San Sebastián.
Jaime Ardiaca, pastor of the Evangelical Church of Amara, in the Basque city of San Sebastián, believes that "it arrives too late and is too short in words, gestures and deeds", but it is "something positive and necessary".
For the pastor it is "an important step towards the reconstruction of our society, very damaged by the hatred and violence accumulated for so many years".
According to Xesús Manuel Suárez, president of the Public Life group of the Spanish Evangelical Alliance, "this announcement is important because it has a symbolic end-of-stage value. There must be a specific moment and a specific act that marks a before and after".
THE PAIN OF THE VICTIMS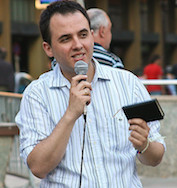 Unai Arretxe, vice president of the Evangelical Council of the Basque Country.
"Entire families have personally experienced the consequences of terrorism. We must be sensitive to the relatives of the victims, who, on the one hand, claim the more than 300 cases that have not yet been settled by the courts, and, on the other hand, recall so many people who died or were seriously injured by the terrorists", Arretxe points out.
There are also "the relatives of the prisoners of ETA, who demand the prisoners to be brought to Basque prisons", he adds.
For pastor Jaime Ardiaca, another process has just started: "If it is already difficult to forgive those who have caused so much damage through terrorism, it is almost impossible to heal the widely open wounds that still remain".
TOWARDS EFFECTIVE RECONCILIATION
But despite the difficulty, the reconciliation process must be addressed. That path "has only just begun", says pastor Arretxe.
Ardiaca is somewhat skeptical: "With everything that has happened and with so much accumulated pain, effective reconciliation will take a long time".
"For many the wound is still open, and it takes more than time to close it", Arretxe adds. That is why "the problem of terrorism is much more: there are men and women, children behind it, people who should not just be considered as collateral damage", he explains.
"It seems to me that many of these steps will have to be taken by the new generations who will leave behind everything that has happened in these years", Ardiaca says. "The attitude, the process, the treatment and the timing are elements that will determine the final result we all want, which is reconciliation", he continues.
Suárez believes that "it is useless to present this end as a crushing of the opposite; it may be worth to obtain political revenues in Spain, but that does not cure, but rather perpetuates the serious wounds that will last for decades in Basque society".
"The Spanish government and a part of the political class - and perhaps of the Spanish population - are not worried about reconciliation, and, therefore, do not take steps in that direction. That hurts the Basque society, but especially the victims, because resentment and unfulfilled revenge do not cure, what it really heals is the granting of forgiveness", Suárez says.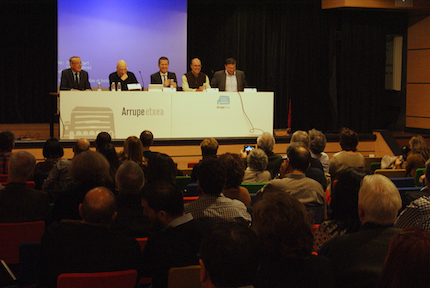 Last year the Spanish Evangelical Alliance held a series of conferences in Bilbao on the theme of reconciliation. / Joel Forster
Last year the Spanish Evangelical Alliance held a series of conferences in Bilbao about reconciliation, where an evangelical proposal was presented, a road map towards reconciliation.
"The long process of reconciliation must begin, taking the initiative without demanding reciprocity; the confession of guilt and repentance cannot be imposed by others. The Basque Country now needs prophets who cry, because there are too many critics who accuse", Suárez argues.
EVANGELICALS AND RECONCILIATION
According to Ardiaca, the contribution of evangelicals to the process of reconciliation "can be much more than we think".
"Not only do we have a message of peace, but also gestures and actions that must accompany that message which reaches not only the people of God but all other people. This is an opportunity to put into practice the transcendental values of the gospel: justice, mercy, love and forgiveness, among others".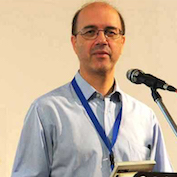 Xesús Manuel Suárez, president of the Public Life group of the Spanish Evangelical Alliance. / AEE
The reaction to this announcement can make a difference says Suárez: "We have to renounce the worldly discourse of epic revenge and sit down with people to rebuild relationships".
"We evangelicals can summon the different sectors of society to sit down and start listening to each other; we can offer a table where everyone can meet and provide the essential moral foundations for this process, not because of our moral superiority, but because we know what it is to be forgiven without deserving it, to be reconciled with God and not by our own initiative".
Pastor Arretxe also agrees with the importance of applying the theology of forgiveness, a forgiveness that "is granted, is given away, and Jesus taught us to forgive like that. As evangelical Christians, we are also people, we live here, and to a greater or lesser extent we are conditioned because this is our context, but I think we all celebrate the announcement of the dissolution of ETA because it opens a new path towards peace".
"True reconciliation will not be seen in the media, it will be seen on the streets, in schools, in families [...] Terrorism ends, peace begins. ETA disappears, reconciliation begins now. It is necessary to reject hatred, and choose forgiveness, a forgiveness that brings freedom", he concludes.