Ines Arrimadas, the leader of new unionist centre-right party Ciudadanos, has won the snap election in Catalonia, with 25.4% of the vote.
Her pro-Spanish unity party was the surprise of the night after a successful campaign, but she is not expected to have enough support to form a government.
Spanish Prime Minister Mariano Rajoy had called the election from Madrid, after applying rare article 155 of the Spanish Consitution which allows the State to take over the control of a region. Rajoy's conservative party, PP, only got 4.2% of the vote and 3 seats, the worst result of his party in a Catalan election ever.
After the dramatic events that followed the unauthorised referendum of October 1, the snap election had to show if citizens supported the process towards independence, but only evidenced the strong polarisation in society: 47.5% voted in favour of pro-independence parties, and 52.5% supported other parties.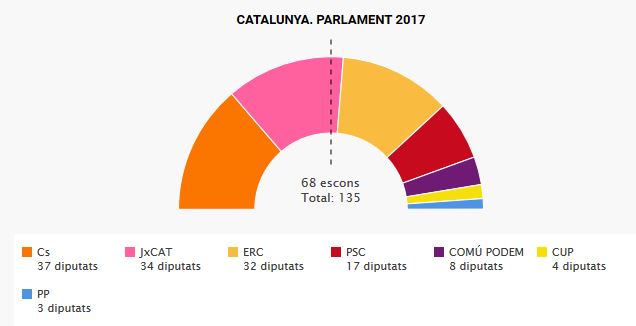 Seven parties in the new Catalan parliament. / TV3
The participation was the highest in a Catalan election: 82% of citizens voted.
PRO-INDEPENDENCE PARTIES KEEP MAJORITY
Former Catalan President Carles Puigdemont (Together for Catalonia), now in Brussels to avoid arrest after declaring the independence of Catalonia, got 21.6% of the votes and 36 seats, and celebrated what he described as the "victory of the Catalan Republic over the monarchy".
Former Vice-President Oriol Junqueras (Republican Leftists of Catalonia), in prison for "sedition", got another 21.4% and and 32 seats. Leftists CUP won 4 more seats to add to this bloc.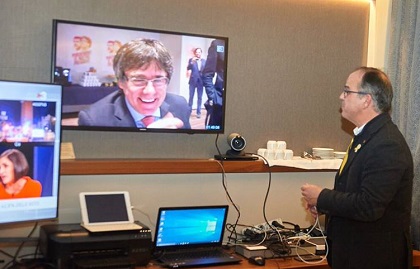 Former President of Catalonia Carles Puigdemont followed the outcome of the election from Brussels. / Junts per Catalunya
Together, the pro-independence bloc retained a majority of 70 seats of 135, down from 72.
Ciudadanos hoped to receive the support of the Social Democrats (13.8%, 17 seats), In Common We Can (7.5%, 8 seats) and the PP, but the four parties have not been able to gain enough support to form an alternative majority.
EVANGELICALS: NO CONFLICTS IN CHURCHES SO FAR
"The bad political context worries us", evangelical pastor of a church in Barcelona, Julio Pérez, told Spanish Protestante Digital a couple of days before the election. "In the churches in Catalonia there are no relational issues between believers or disdain", but the general atmosphere is "tense", he said.
Eliseo Casal, a leader of another church in Barcelona, added: "The situation requires dialogue and openness, empathy and generosity". This "has been lacking in the last years both in the Spanish and the Catalan governments", and that has only "redicalised the stances".
Jaume Llenas, church planter and Secretary General of the Spanish Evangelical Alliance, added: "What we need the most now is peacemakers".
In the last months, evangelical organisations have called to pray for the conflict in Catalonia.
Evangelical Focus wrote an editorial entitled "Tackling the Catalan issue" and other authors have analysed the conflict from a Christian perspective.