Addressing the Catalan parliament in Barcelona on Tuesday evening, Catalan President Carles Puigdemont said the autonomous region had won the "right to be independent" as a result of the vote.
Puigdemont signed a declaration of independence, but halted implementation to allow negotiations.
"I propose suspending the effects of the declaration of independence to undertake talks in the coming weeks without which it is not possible to reach an agreed solution", he told MPs.
Talking to all Spanish citizens, he added: "I want to send you a message of calmness; of tolerance, political dialogue and respect".
The Catalan President called on "international states and organisations to recognise the Catalan republic as an independent and sovereign state".
The move came nine days after the unauthorised independence vote, in which 90% of participants voted in favour of splitting from Spain.
RAJOY ASKS PUIGDEMONT TO CONFIRM INDEPENDENCE
In a televised address, Prime Minister Mariano Rajoy said: "The cabinet has agreed to require formally to the Catalan government to confirm whether it has declared or not independence".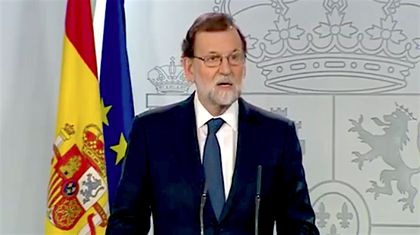 Mariano Rajoy during the televised declaration. / TVE
"This call, ahead of any of the measures that the government may adopt under Article 155 of our Constitution, seeks to offer citizens the clarity and security that a question of such importance requires", Rajoy added.
Article 155 of the Spanish constitution would allow Mr Rajoy to suspend Catatonia's autonomy and impose direct rule from Madrid.
"There is an urgent need to put an end to the situation that Catalonia is going through, to return it to safety, tranquillity and calm and to do that as quickly as possible".
The Prime Minister sadi this after holding an emergency cabinet meeting to discuss the government's next steps. He will address the Spanish parliament on Wednesday afternoon.
DONALD TUSK: "I ASK YOU TO RESPECT THE CONSTITUTIONAL ORDER"
Hours before the announcement, Donald Tusk, the President of the European Council, appealed to Puigdemont to step back from a unilateral declaration of independence and begin dialogue with Rajoy.
"Today, I ask you to respect, in your intentions, the constitutional order and not to announce a decision that would make such dialogue impossible", he said.
Read more news and opinion on the Catalan crisis.