In the year of Barbie and Oppenheimer, another film is making headlines for its huge impact.
Sound of Freedom, a thriller on the criminal child trafficking network in the American continent, has become a major success in the United States and Canada, with a box office of 182 million dollars since its release in early July – beating blockbusters such as Indiana Jones and the Dial of Destiny and Mission Impossible: Dead Reckoning.
In two months, the film by Mexican director Alejandro Monteverde (Bella) and produced by Eduardo Verástegui (Unplanned) has made profits 1,200 times higher than what it cost to produce the movie.
The film stars Jim Caveziel (known for The Passion of the Christ) and tells the story of a US Department of Homeland Security agent who quits his job to do more to rescue children from slavery and sex trafficking. "Fight for the light, silence the darkness", is the tagline of the movie.
Sound of Freedom has received much publicity from well-known politicians and artists (including former US president Donald J. Trump), causing a controversy among those who praise the fact that sex trafficking becomes an issue of discussion on social media and those who believe the film is used to spread conspiracy theories.
The project was dropped by Disney and turned down as well by 20th Century Fox to later become another audience success of Angel Studios, the Christian company that produces The Chosen series (about the life of Jesus) and distributes other Christian independent films such as His Only Son.
At last in Europe
After a long silence about where and if the movie could be seen in European cinemas, Sound of Freedom finally started screening in Eastern Europe.
The release in Estonia and Lithuania on 18 August was followed one week later by Albania, Bosnia and Herzegovina, Croatia, North Macedonia, Serbia, Slovenia, Montenegro and Kosovo.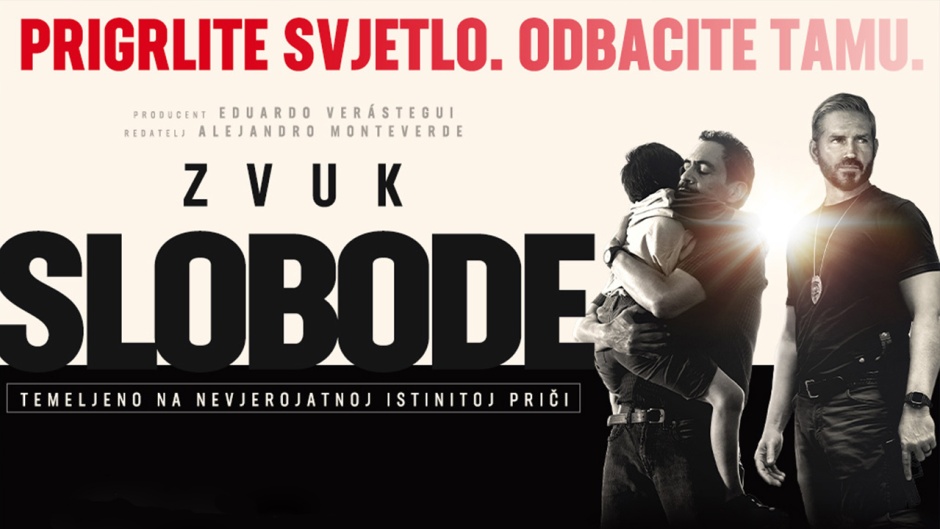 [photo_footer] The film, advertised in Croatian cinemas. / Photo: laudato.hr[/photo_footer]
The weekend of 1 September, the movie was released in United Kingdom and Ireland cinemas, starting in 523 cinemas and earning almost 1 million pounds, making it the 4th most successful film of that weekend.
Poland and Russia will start screening Sound of Freedom on 14 September, while the release in Belgium, Netherlands and Spain is set for October. Cinemas in Germany and France announce the film for the first half of November.
In a more secularised continent with less tradition of faith-based films, it remains to be seen whether Sound of Freedom attract as much interest as in the US and Latin America.
[donate]