Amidst record-high temperatures, Spaniards will elect a new parliament on Sunday 23 July.
Prime Minister Pedro Sánchez and his leftist coalition could lose power, according to most surveys, which point to a conservative shift that would make the conservative People's Party the winner of the general election - although not with an outright majority.
Some of the hot issues during the campaign were the economy (with a high inflation but also good employment figures), the gender debates (including the controversial Trans Law and an amended law on sex offences which has unexpectedly lowered the convictions of over 1,000 sex offenders), and the plans for environmental care and sustainability.
The political parties also debated about the future of independence aspirations of Catalonia and the Basque Country, as well as the lack of housing availability for young people.
In their programs, the parties barely addressed religious freedom and the treatment of faith minorities.
The presence of evangelical Christians
Evangelical Christians in Spain are the fastest growing faith group when it comes to worship places and now represent between 1% and 2% of the population.
Ahead of the election, the Spanish Evangelical Alliance issued a 70-page document titled 'Vote with an informed opinion', in which believers with expertise in areas such as health system, economy, education, culture, pointed to a Christian perspective on central issues in society.
Protestante Digital, the largest Spanish news website with an evangelical perspective, contacted the four parties with most seats in the National Congress (Spain's parliament in Madrid) for an interview. Three of them accepted the invitation: hard right party Vox (second party of the opposition), Social Democrat PSOE (leading party of Prime Minister Pedro Sánchez) and conservative PP (main party of the opposition).
Social Democrats: "Amazed by the social work with migrants"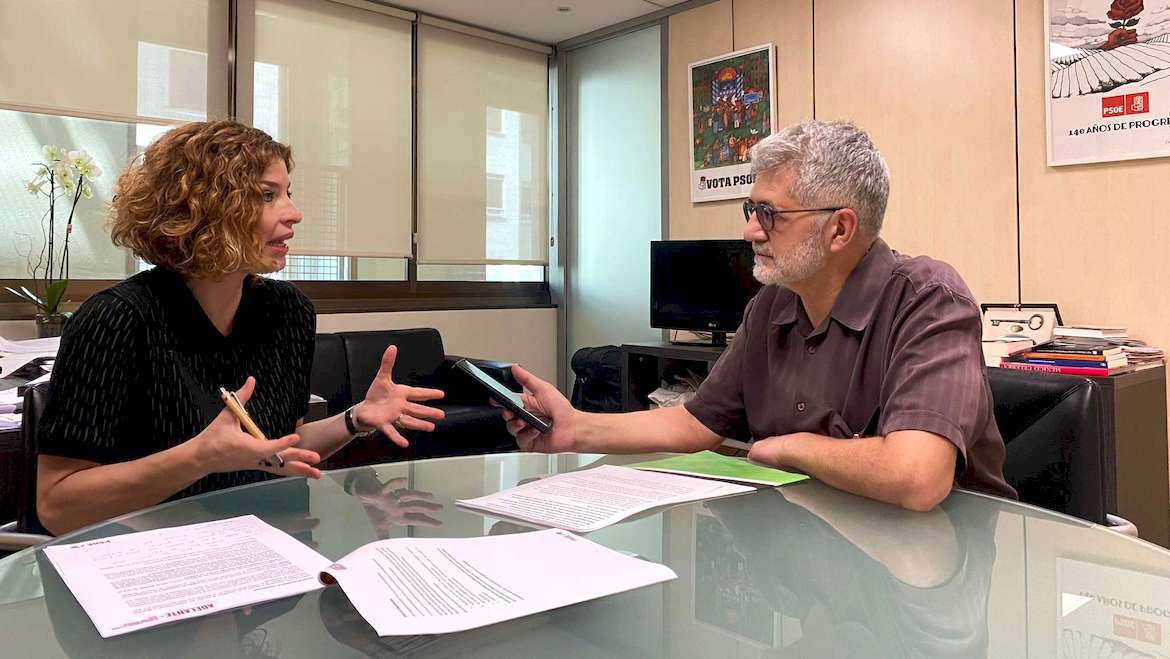 [photo_footer] Hana Jalloul, candidate in Madrid for the PSOE in the Spanish parliamentarian election of 23 July, 2023, answers questions of Pedro Tarquis. / Photo: Protestante Digital. [/photo_footer]
Hana Jalloul Muro, candidate of the PSOE to the Congress and head of the party's International Policy and Cooperation affairs, said she was impressed by the work of evangelical churches in serving migrants. "I was amazed at the important social work they do in places like the Canary Islands", she said in the interview.
Churches like Misión Cristiana Moderna in the island of Fuerteventura, led by pastor Ángel Manuel Hernández, have been praised by the authorities and awarded for their work in receiving migrants arriving from the African continent on small boats. "As a government, we worked a lot in the Canary Islands and the Minister went many times and we visited pastor Ángel, who is there (…) [The church] has a large reception centre, with all that it entails, from welcoming the person, feeding them, worrying about their life, their future, the issue of papers, families and children".
Jalloul gets from time to time messages from the pastor. "He always sends me a prayer as well, I am always grateful to everyone who prays for me".
LGBT agenda? "Rights are equal for all"
Jalloul said the PSOE agrees with evangelical Christians in the abolitionist approach to prostitution, because the stories of sex trafficking in Spain are "heartbreaking and unacceptable".
Asked about the gender debates, Jalloul defended the recent law that allows 16-year-olds to legally change their gender without restriction and the government's support of the LGBT agenda, but admitted that faith groups must have a right to teach their views on sexuality.
"Everyone knows that Christian churches, in their different variations, have always preached traditional marriage between women and men. And if they want to keep saying that this is what they believe, everyone knows that religions in general are what they preach", she said. "Rights are equal for all, heterosexuals, religious and non-religious as well", she told Protestante Digital.
Vox: "Evangelicals are coherent in fulfilling what they preach"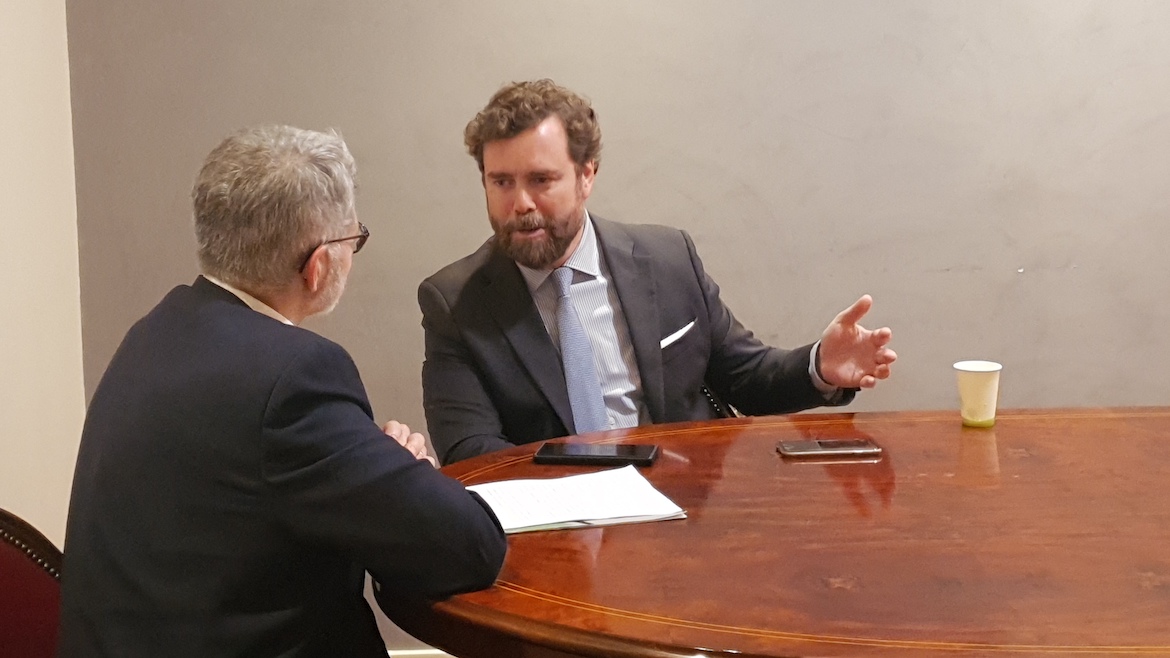 [photo_footer] Iván Espinosa de los Monteros, candidate in Madrid for Vox in the Spanish parliamentarian election of 23 July, 2023, answering questions of Pedro Tarquis. / Photo: Protestante Digital. [/photo_footer]
Iván Espinosa de los Monteros, spokesperson of opposition party Vox in the national parliament, was asked by Protestante Digital about his view of minorities beyond Roman Catholicism. "There is no doubt that in Spain the Catholic religion has strong roots and a strong historical component, but that does not mean that in Vox we are thinking only of Catholics when we talk about Christianity", he said.
He underlined "the good relationship we have with the Protestant or Evangelical church in Spain" and recalled living one year with an evangelical family in the United States when he was a teenager.
"What has impressed me about my experience with evangelicals in Spain, beyond my previous knowledge of the US in the 1980s, are two aspects. The first is the degree of commitment and compliance with the values you evangelicals believe in. Whether people like it or not, my experience is that it is superior to that of Catholics in Spain. You are more coherent in the fulfilment of what you preach", Espinosa said.
"A community beyond religion"
The other aspect the Vox representative finds "very remarkable" is that evangelical Christians are "not limited to a religious movement, but also create community".
"I have seen a degree of commitment to the community that you are and to the society in which you live that goes far beyond the religious sphere. Of course you have your religious celebrations, but then I see that a community is formed there that helps each other, that has its social space, that does a lot of work in very diverse aspects such as helping disadvantaged people, detoxification of drug addicts, street markets to self-finance social work; and I believe that this is an important part of the strength of your parishioners, something that the pastors I have met encourage in their work".
This community approach, the Vox representative said, "is what makes you stand out, grow and is the key to your success".
The parliamentarian from Madrid underlined that his party is against the imposition of gender ideology in schools, against euthanasia, against the liberalisation of abortion, and in favour of better supporting families.
The party holds a strong stance on immigration, says mosques led by Salafists should be put under surveillance, and is proud of being the only party in the Spanish parliament openly speaking about the persecution of Christians.
"The persecution of Christians in the world is notorious and contrasts with religious freedom in the West, where one can set up a mosque in Spain, but cannot so easily set up a church in many countries", Espinosa told Protestante Digital.
PP: "Dialogue, listening and mutual respect"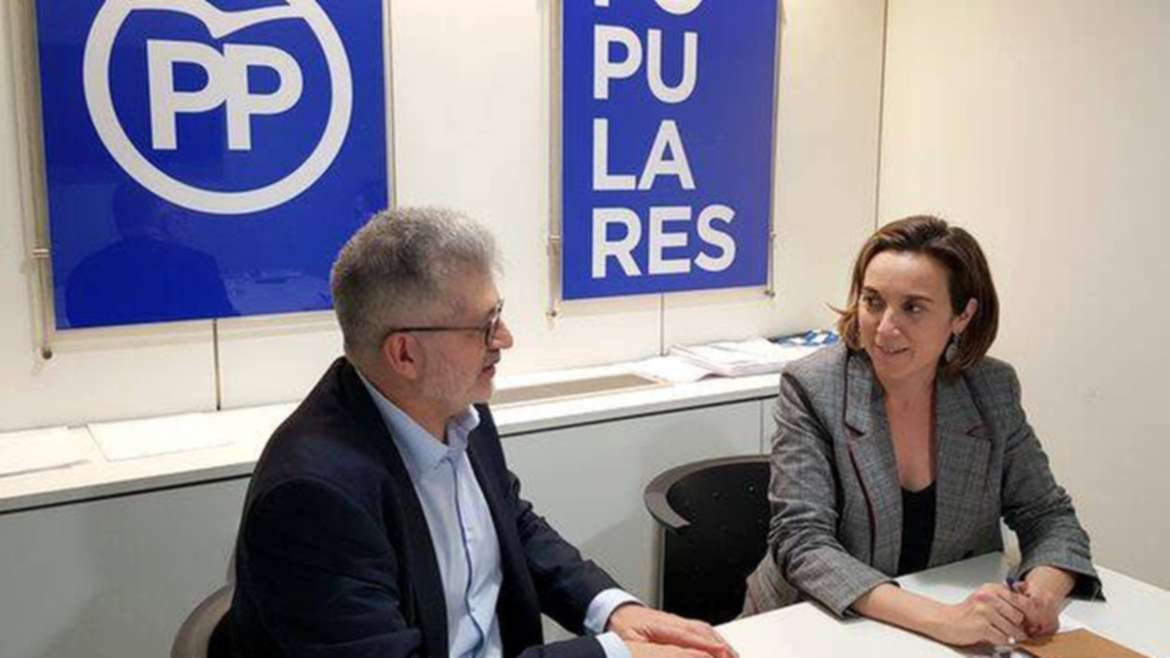 [photo_footer]Cuca Gamarra, secretary general of the People's Party, interviewed by Pedro Tarquis of Protestante Digital, in Madrid. / Archive image: Protestante Digital. [/photo_footer]
Cuca Gamarra, the secretary general of the People's Party (PP) also responded to questions of Protestante Digital. She underlined her group's emphasis on the freedom of educating children according to the parent's values. She also promised to revise the controversial transgender law approved by the leftist government.
The party also says it will address the mental health crisis in Spain and tackle pornography to reduce risky sexual behaviour among teenagers.
Speaking about her view of evangelical churches, Gamarra said: "My experience has been very positive, I have been able to meet people from whom I have learned a lot, they have enriched me on a personal level. Through dialogue, listening and mutual respect, we have built a relationship that is fundamental to legislate taking into account their vision and faith".
Read the full interviews by Pedro Tarquis with Hana Jalloul Muro (PSOE) and Iván Espinosa de los Monteros (Vox) and Cuca Gamarra (PP), all in Spanish language.
[donate]