A new study produced by missiologist and pastor Daniel Liechti for the National Council of French Evangelicals (CNEF) shows what has been a topic of conversation among European Evangelicals in the last years: churcheswith a clear biblical identity are striving in France.
"Since 1970, nearly 1,600 additional local churches have been planted in France. Currently, the number rises to 2,440 in 2,184 cities", according to the study, updated with data for 2015.
The Evangelical community represents 1/3 of the Protestants in the country at this moment, and 2/3 of Protestant practicing believers.
"The number of Evangelicals is 10 times bigger now than in 1965". Now "one new church is planted every 10 days".
To make sure the data do not over-represent the size of evangelical movements, this study only identified as local churches "those who are structured enough to offer weekend services at least three times a month".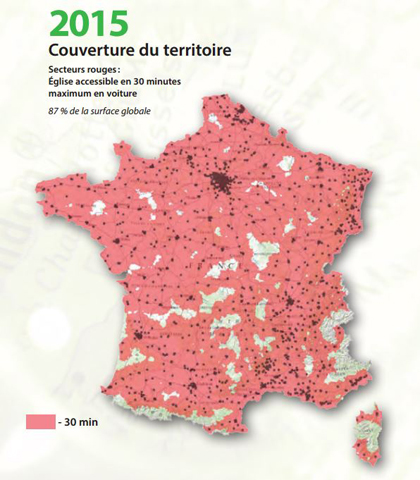 An Evangelical Church is accessible by car in less than 30 minutes in 87% of French territory. / CNEF
At this moment, it is possible to find an Evangelical church in a distance of 30 minutes by car in 87% of the French territory. If we reduce the travelling time to 15 minutes, 42% of French citizens still have an Evangelical church in that distance.
According to the study, Assemblies of God (414 churches), the Tzigane Evangelical Mission (220), the Baptist Federation (120 churches) and the Brethren Assemblies (103) are the most extended denominations in the country.
You can read the full study at CNEF's website.