Levico Terme, a town near Trento (Northern Italy) is the home of Rosa Calisti and her family. Since already one year, it is also the safe place for a family that fled Ukraine.
Vitalina and her daughters Daniela (9 years old) and Rada (6) arrived on 18 March in Rosa's house with grandparents Vitalij and Svitlana.
Their city, Chernihiv (150 km north of Kyiv) was hit by the war in the first days of the Russian invasion.
Rosa had learned through her son "that there was a family with two little girls who had to run away and were looking for a safe place to stay".
Like many others, she had "seen in television the images of mothers with children crowded in the subways. We did not hesitate to invite them to come to our home", Rosa tells Evangelical Focus.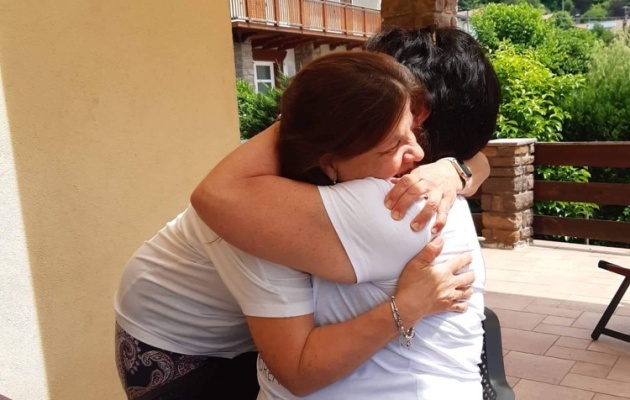 [photo_footer] Despite speaking different languages, there have ben much times of fellowship. [/photo_footer]
Food and relationships
12 months later, the house is still full. "We consider them our adopted family, so much that for the girls I'm now their Italian grandmother".
Food is a key feature in Italy, and a good way of getting to know each other. "For the first two months we ate together every day to make them feel at home and in the family", explains Rosa. "Grandfather Vitalij loved to cook and he made us taste the main typical dishes of Ukraine, and we prepared many specialties of Italian cuisine".
After two weeks, the girls started attending school. And communication also improved. "Initially we spoke in English with Vitalina and used the translator with the grandparents, but we soon realized that it was better to only speak Italian to help them integrate faster".
Vitalina was able to find a job as a waitress both in summer and in the Christmas season.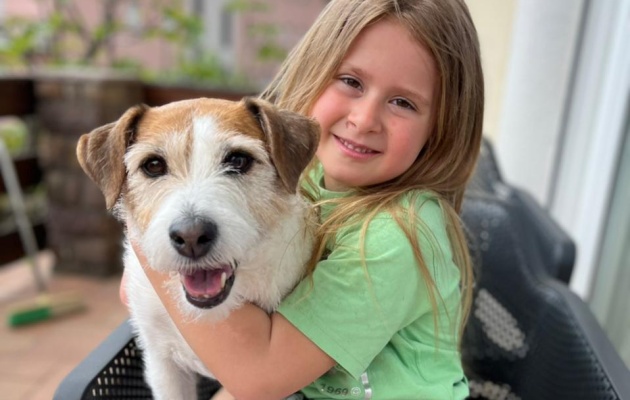 [photo_footer] One of the girls with dog Brunilde. [/photo_footer]
Other relatives also got involved in the adaptation process. "Daniela and Rada cod immediately bond with my youngest nephew Riccardo, who is roughly the same age as Rada. And a fundamental role in restoring serenity to the family was played by my dog Brunilde, a jack russel, that intuitively provided love and cuddles to all of them".
Fear for those left in Ukraine
But anxious moments with feelings of "disorientation and fear" have also been dominant.
At Rosa's Italian home, the war has become a tangible reality. "Vitalina suffered a lot from being away from her husband" and the girls "wished their father could be with them". At the same time, "grandmother greatly missed her other son".
"Every time there is an explosion in Ukraine, Vitalina asks me if we heard the news and wishes to know our opinion" (…) They have an app that informs them in real time when the alarm goes off in their city. Vitalina's brother is enlisted in the army and they don't know exactly where he is. Daniela, the eldest girl, knows that there is war in their country and she understand that she can't go home".
Grandmother Svitlana often expresses that her Italian host family is "a blessing from God", but being away from her homeland has not been hard. In the first weeks, recalls Rosa, "we rarely talked about the war, it was too painful for them".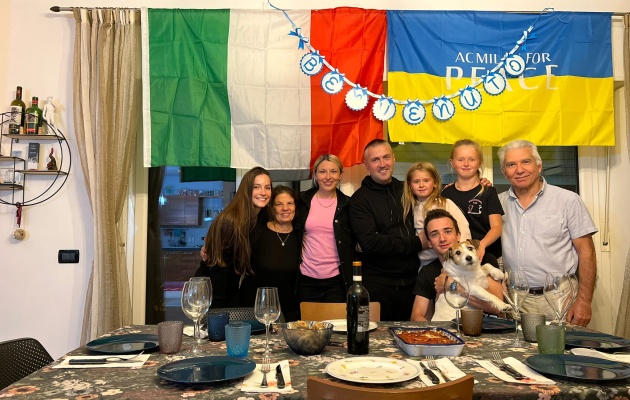 [photo_footer] Family times. [/photo_footer]
The Italian church family
Looking back at the first year together, Rosa says she is "deeply grateful to God for the guidance through the difficult times we had".
She is the only evangelical Christian in a family that includes atheists and Catholics. "To me, being evangelical means living the faith every day, testifying in a concrete and coherent way my love and gratitude for God".
Sensing the support of her church family has been very important. "When we decided to welcome this family, I spoke about it in church and prayed for their support. Many church members have helped me by donating clothing and all sorts of goods".
Their Ukraine guests are Orthodox Christians. "I told them that the whole church extensively prayed for them during their journey to Italy. On the first occasion they had to come to church with me, the grandmother thanked the pastor for the prayers and asked them to continue praying for peace in their country".
Rosa sees reasons in Jesus' words to keep her home's doors open. "Welcoming this family appeared to me as a way to fulfil God's desire, as the Gospel of Matthew 22:37-39 tells us: Love your neighbour as yourself".
[donate]