As the new year starts, European evangelical churches are summoned to a special week-long time of prayer.
It is the Week of Prayer (WOP), an initiative that the European Evangelical Alliance organises since its foundation in 1846.
"Cling to the promise that we are created for joy"
"Going into the Week of Prayer 2023 Christmas lays just behind us. We have celebrated and rejoiced in Jesus Christ, the Bringer of Joy. And once more we have wondered about a manger full of joy. Not a palace, but a manger!", said Thomas Bucher, former EEA General Secretary.
He stressed that, even amid the difficulties Europe is facing, "we can cling to the promise that we are created for joy. Joy as the core characteristic of a fulfilled life. Not only a life that feels right, but a life which is set right by the triune God and in the company of His people".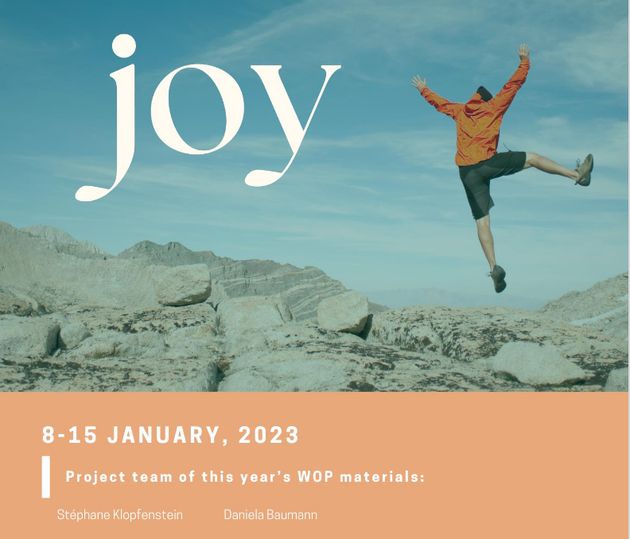 [photo_footer] The theme of this year's edition is Joy. / WOP [/photo_footer]
Joy
From 8 to 15 January, under the theme of Joy, the material, coordinated by members of the French-speaking and German-speaking Evangelical Alliance of Switzerland contains a biblical devotion as well as questions for reflection, prayer topics, and a suggested prayer for each day.
"During the 2023 WOP, we look at a different facet of the Christian message of joy each day: the joy in creation, the joy in Jesus Christ, the joy as a fruit of the Holy Spirit, to be created for joy, the joy in being together, the joy over redemption, the joy in suffering and finally eternal joy", explained the coordinators of this year's edition, Daniela Bauman and Stéphane Klopfenstein.
They pointed out that "if we allow ourselves to be caught up in God's act of love and redemption through the death and resurrection of Jesus Christ, joy will inevitably enter our lives".
The 2022 Week of Prayer resources can be download free of charge in several languages at the EEA website.
[donate]