Climate change is not the only environmental issue, facing us today but it is certainly the one that we hear most about.
What is the problem? The main cause of human-induced climate change is our burning of fossil fuels since the beginning of the Industrial Revolution. That has led to an increase in atmospheric carbon dioxide concentration from about 280 ppm in pre-industrial times to 404.16 ppm in February 2016. The extra carbon dioxide is like an extra blanket on your bed, an extra boost to the greenhouse effect, and we would expect that the planet would begin to warm. That has been the case and we are now around 1oC warmer globally than before the Industrial Revolution, quite a rapid rise.
Globally 2014 was the warmest year on record, but that was soon beaten by 2015. January and February 2016 broke even more records. The increase in temperature has caused a number of things: more heat waves, increased severity of extreme weather events, droughts, floods, melting of ice caps and glaciers, and sea level rise. But what of Europe?
IMPACT IN EUROPE
It would probably be fair to say that the effects of climate change on Europe have, so far, been less than for some other areas and continents: the Arctic, Africa, Oceania and Australia for example.
However, there have been some significant impacts. Perhaps the most well-known was the 2003 heatwave which led to the hottest summer in Europe for at least 500 years. France was particularly badly affected, but many Western European nations posted record temperatures. Estimates vary, but the heatwave may have caused as many as 70,000 deaths. We also saw widespread crop failures.
Of course we have always had heatwaves, but soon after scientists were able to calculate that the 2003 heatwave was made twice as likely by human emissions. Since 2003 "climate attribution" calculations have become common after extreme weather events, and in many, but not all, cases a human impact on the event has been proven. So climate change has been calculated to have boosted the chances of the wet winter in the UK in 2013/14 by 43%. This rainfall was the cause of serious flooding in much of Southern England and Wales.
In the Eastern Mediterranean and Levant there was a prolonged drought from 1998 to 2012 which is thought to be the worst for 900 years. Here the effect of human emissions is strongly suspected to have intensified the drought, but it is not totally proven. The drought may have played a part in the Syrian refugee crisis. As many as 1.5 million Syrian farmers were forced to abandon their land and go to the cities, which they did in increasing numbers towards the end of the drought in 2010 and 2011. This added to an already tense situation, war followed, and then people started to leave the country for Europe. Could this be a foretaste of things to come?
LOOKING TO THE FUTURE
It is difficult to predict the future for the European climate, and much depends on how successful humanity is in cutting emissions in the next few years. What is clear is that global temperature will continue to rise whatever we do now. It is also certain that some parts of Europe will be more affected than others. The UK is likely to have a more Mediterranean climate, with milder wetter winters and hotter drier summers. The worst predictions for the Mediterranean are pretty dire with large increases in temperature and prolonged droughts.
Moreover, Africa is probably the most vulnerable of all the continents to future climate change. It is possible that later this century we may see continual waves of climate refugees moving north from Africa and the Mediterranean and towards Northern Europe. I hope not.
In general terms Europe has been at the forefront of environmental policy, and efforts to deal with the threat of climate change. The European Union has been behind a whole raft of environmental legislation, and has been a powerful force in international negotiations.
THE EUROPEAN RESPONSE
However, individual countries within Europe have differed in their responses. The German energiewende (energy transition) is a very ambitious plan to increase the use of renewable energy sources. By 2050 the aim is to obtain 80% of power from renewables. There has been major investment in onshore wind, solar and biomass and large offshore wind schemes are being erected in the North Sea.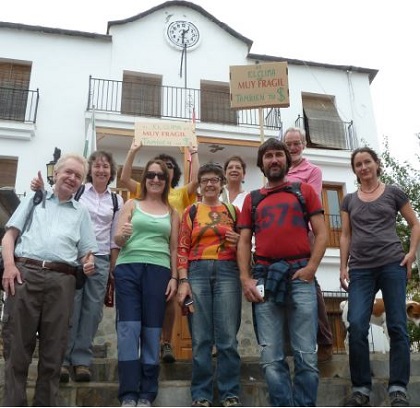 Climate Change demonstration in Portugos, Sierra Nevada, Spain. Martin Hodson is on the left of the picture.
In Spain wind energy capacity is fourth in the world behind Germany, the United States and China and met 18% of national electricity demands by 2012. Spain also has some of the best sunshine in Europe, and is a world leader for both photovoltaic and photothermal solar energy. In the UK the Climate Change Act of 2008 was ground breaking at that time
Sadly, recent government policies on renewable energy and combatting climate change have not followed up on this excellent start. Undoubtedly, the COP21 climate change meeting in Paris in December 2015 will have a major effect on climate change policy for years to come. It is too early to properly assess the Paris Agreement that came out of the meeting, but the French hosts were key in getting all parties to agree.
THE CHURCHES' RESPONSE
The response of the European Churches to climate change, as with all environmental issues, has been patchy, but there are signs that this is beginning to change. We should pay tribute here to Sir John Houghton, co-chair of the Intergovernmental Panel on Climate Change's scientific assessment working group. An evangelical Baptist, on his retirement Sir John devoted much of his time to convincing church leaders that they should take climate change seriously. He was the driving force behind the setting up of the John Ray Initiative (JRI), a Christian environmental think-tank, in 1997. Christians began to take up the challenge, most particularly in the UK, but also to a lesser extent in other parts of Europe.
It is now common to see Christian organisations involved in climate change demonstrations and campaigns. There was a very strong Christian presence at the COP21 meeting in Paris, some having come on pilgrimages across Europe.
In January 2016 we saw the launch of the new Eco Church scheme from A Rocha UK. At present this is aimed only at churches in England and Wales, but there has been a lot of interest from other countries. Inevitably, the scheme is focussed more broadly than just climate change: worship and teaching; buildings and land; engagement with the local community and in global campaigns, and personal lifestyles of the congregation. But if all the churches in Europe were to engage in Eco Church or similar schemes it would have a significant impact, and also be a major witness to their local communities.
In conclusion, it looks likely that climate change will be a substantial problem in Europe this century. How bad that problem will be is, to some extent, in our hands. It is certainly a matter for prayer.
Dr Martin Hodson is a plant scientist and environmental biologist who lives in Haddenham, Buckinghamshire, UK. He is Operations Manager for the John Ray Initiative, a charity connecting environment, science and Christianity.
This article first appeared in the May 2016 edition of Vista magazine.