TWR Women of Hope, a global ministry of Trans World Radio, is bringing hope in Jesus to women around the world and across generations.
Women in many parts of the world are marginalized, experiencing high levels of poverty, lack of education, oppression and health crises. While social reforms promise empowerment of women and the end of negative family cycles, only a spiritual solution found in Jesus Christ has the power to provide sustainable change and lasting hope.
TWR Women of Hope's mission is to educate, encourage and equip women to pray, listen, learn, grow and give through media, small group interaction and leadership development.

[photo_footer] Women of Hope radio program. / TWR [/photo_footer]
"We hear stories from our listeners about ways the Women of Hope radio program is touching their lives," says Dr. Peggy Banks, global ministry director for TWR Women of Hope. The program includes educational and spiritual messages that are broadcast and distributed to women in over 70 languages. This results in more than 400 hours of radio broadcasts each week.
Additionally, more than 100,000 prayer intercessors pray in 100+ languages for women and the global issues they face, such as child marriage, poverty and abuse.
What's more, TWR Women of Hope has produced Hidden Treasures, an audio series for women who have been sexually exploited. Hidden Treasures is available in ten languages with three in process.
One of the most vibrant regions of Women of Hope activity lies in the Arab world. The Women of Hope Arabic media ministry continues to grow in its reach to Arab women residing in and outside the Arab region; equipping, encouraging, educating and spreading the hope of Jesus through its many media platforms. These platforms include digital media opportunities via the website, apps, podcasts and social media as well as through medium-wave transmitters that beam out messages of hope across the Middle East and North Africa.
Episodes and series are designed to address challenging situations but provide hope-filled, encouraging and dignifying responses. For example, the series You Have Hope takes on the topic of being the victim of bullying, lacking opportunities in life and living in a negative environment. Singleness, domestic violence, choosing your spouse or self-development reveal the breadth of themes that the ministry team seeks to share with their listeners.
Follow up is always occupied by messages and comments received by women from different backgrounds. Lately, the team has received responses from women from over 13 countries across the Arab world. Messages and comments are received in different formats, which consists of; questions, challenge sharing, prayer requests, encouragement, appreciation, asking for help and a lot more. Our follow up team, eagerly answers all messages and comments to help walk with the women through their own challenge-full path. Fruit 'output' differ from one person to another. Some choose to follow Jesus and have hope in Him, some out of fear believe but run away, others walk the path of healing through counselling them with the Word of God, a few start to be aggressive and against the Christian faith but the team delivers the full message of salvation believing that God can nourish the seed.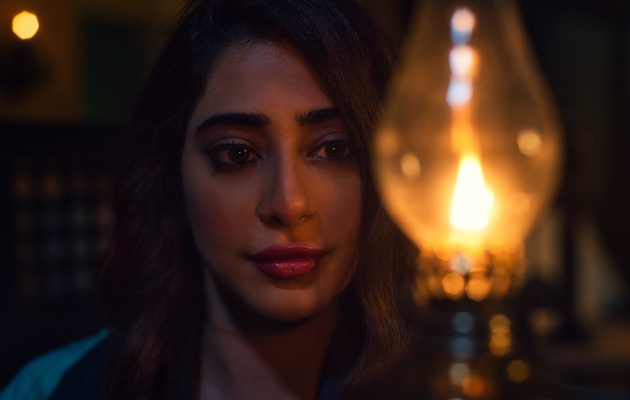 [photo_footer] Jesus says: "I am the light of the world. Whoever follows me will never walk in darkness, but will have the light of life." John 8:12. This photo is not of an actual listener. / Photo: Abdulla, Unsplash, CC0 [/photo_footer]
A young lady named Luna (pseudonym for security reasons) from Tunisia exemplifies the many stories and challenging life situations that women face in the Arab world:
"I'm broken, I'm finished! The one who I fell in love with left me. I got pregnant (illegally) and lost my baby, I feared going to the hospital because I didn't want my family to know that I was pregnant or they will kill me! So, after losing my baby, my boyfriend helped me with the cleaning-up and it was painful and hard. Then he left and told me harshly that he won't see me again. I felt as if my heart shattered! What should I do? I really don't know why I'm sending you this, but I felt I can trust you!"
Several calls and messages were done to help Luna to feel a bit better, reaching out to her with a hand full of love and acceptance. She was told that Jesus can heal and Jesus can restore. It's been several months now, and Luna is showing more interest in Jesus and she started to feel that hope is near and that her life can be restored. This was one of her last messages received:
"Jesus has been good to me, I know I'm full of sins, but I felt after talking to Him that I'm loved and forgiven. I want to stay close to Him and you. I want to feel the assurance always from Him. Thank you! If it was not for you, I probably would not be alive by now. Pray for me!"
The local ministry team has listed the following as prayer items and they would greatly cherish our prayers:


Pray for the women who are facing abuse to know that they should seek help to stop such violence against them.


Pray for those women who are taking courageous steps towards Jesus to be sustained and nourished well with the Gospel.


Pray for the social media platforms and the different challenges that occur that slows down the ministry.


Pray for the women who live in fear of being persecuted and are scared to take steps into the Christian faith because of that, so that they would let the Holy Spirit work in their hearts and souls for His Glory.


Pray for the follow up team, to have strength and always seek wisdom in the midst of tough conversations.


This article was compiled by Frank Stephenson from material provided by TWR and Women of Hope.
To hear programming, listen to worship music and access other helpful spiritual resources, visit TWR Women of Hope's dynamic landing page at TWR360.